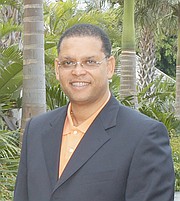 By NICO SCAVELLA
Tribune Staff Reporter
nscavella@tribunemedia.net
BAHA Mar officials plan to present the National Insurance Board with information that would assist the board's investigation into recent layoffs of 190 workers from Crystal Palace "within time," Robert Sands said yesterday.
Mr Sands is the resort's senior vice president of external and government affairs.
He was responding to Labour and National Insurance Minister Shane Gibson's earlier statements to the press describing how "upset" he was at Baha Mar for failing to provide NIB with that information.
Mr Gibson, on Tuesday, accused Baha Mar of "filibustering" and reaffirmed that resort officials had seven days to deliver the information to NIB.
Although initially evasive when first asked about the topic, Mr Sands yesterday revealed that Baha Mar officials will deliver the information within the timeframe allocated by NIB.

He also denied that the firings of the 190 persons were related to the hundreds of people that begin working full time at the mega resort upon their graduations from its Leadership Development Institute (LDI).

"The two are not connected," he said, on the sidelines of an LDI graduation yesterday. "We will provide the information with the Ministry of Labour within time. The timeframe they have established to us we will deliver the information."
The workers were fired on November 7.
In an interview with ZNS last week, Mr Gibson said he had met with Baha Mar officials two weeks ago regarding the information, who said they would do their best to get it to National Insurance within 48 hours.
But last week, Mr Gibson said he still had not received any information. He also said he reportedly spoke to Mr Sands personally on November 14, but had not obtained any information from him then either.
He said he subsequently sent National Insurance inspectors to Baha Mar to "look and see exactly how many persons they are paying contributions for."
Mr Gibson said the inspectors told NIB that Baha Mar officials were "not being very cooperative in assisting them with the information," but he said if NIB had to send out inspectors "every single day until (they) get the information" then it would.
Mr Gibson said he was "very upset" by the fact that Baha Mar had not yet provided NIB with the necessary information. He said the Ministry of National Insurance was trying to determine whether it is a "calculated way of (Baha Mar) being disrespectful to the government."
He added that Baha Mar should not "continue to run from (NIB) and not provide (them) with that information."
When asked for an update on the situation by reporters on Tuesday, Mr Gibson said: "Every other Bahamian company and every other business in the Bahamas has to provide National Insurance with information once it's requested. Baha Mar has to do the same thing.
"The first thing we're trying to do is get the information so we can make a decision as to the way forward. We haven't been successful in getting it from Baha Mar, because they've been filibustering. We're now following the (National Insurance) Act, and requested information. We gave them seven days to respond."
Prime Minister Perry Christie has also weighed in on the situation. Two weeks ago he called the terminations "unfair" and said the government needed to give hotel staff greater protection in future Heads of Agreements negotiated with foreign developers.
Mr Christie previously hinted that the government had found itself between not wanting to offend a developer on which it has pinned its hopes for economic revival while being upset about the lay-offs and the way those affected have been treated.
Meanwhile, Bahamas Hotel Catering and Allied Workers Union (BHCAWU) President Nicole Martin has said that it was time for the government to stop spanking foreign companies on the wrist and instead "take out the belts."