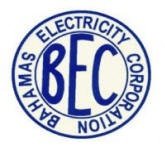 By KHRISNA VIRGIL
Tribune Staff Reporter
kvirgil@tribunemedia.net
TWO local companies have refused to do business with the Bahamas Electricity Corporation because the "cash-strapped" organisation has outstanding accounts with balances in the thousands, according to BEC Executive Chairman Leslie Miller yesterday.
According to Mr Miller, Albury's Supply Company – which provides BEC with automotive service parts and maintenance – last week suspended the corporation's account until payment was made. This week he said a second company did the same.
He said the corporation was drowning in a $450m debt.
Despite BEC's poor financial position, Mr Miller said the 1,200 people employed at the corporation were still slated to receive hefty Christmas bonuses ranging from $1,200 to $3,000.
He said the corporation was looking at a ballpark figure of around $1.3m for this year's holiday payout. Mr Miller made the revelation as a guest on Guardian Talk Radio's "Let's Talk Live".
However, Mr Miller's candid discussion during the talk show infuriated Bahamas Electrical Workers Union (BEWU) President Paul Maynard.
In an interview with The Tribune, Mr Maynard accused Mr Miller of "being childish and acting like a spoiled brat".
This comes in the wake of continued tension between the union and Mr Miller over an industrial agreement that has not been approved. He said the BEWU was expected to visit the Department of Labour today at 11am to begin the process of obtaining a strike vote.
Meanwhile, the union remains on work to rule.
"There is no point in Mr Miller talking to me if one of my members get hurt because of him spreading people's personal information about salaries and bonuses," Mr Maynard said. 
Mr Miller told The Tribune: "What usually happens is we have to pay Shell for fuel before we do anything else. Each month we have to ration. It's not that we don't have the money but every month it's like robbing Peter to pay Paul.  
"I don't think it was that much of money owed. It was in the thousands because we usually pay every five or six weeks."
As it stands, Mr Miller said BEC pays out $48 million in salaries annually with 25 per cent of that figure allocated to overtime pay.
"BEC employees have always been the highest paid workers in this country," he said.
"The average salary in BEC exceeds $40,000 (per year) while the average salary in the public service is around $18,000. So the first thing you look at is where can we cut costs?  Where can we make this corporation a viable entity to take the load off the backs of Bahamian people? Four thousand of whom are (without electricity) today because they cannot pay their bills," Mr Miller said during the show.
Mr Miller added that over the last decade, BEC has paid more than $100 million in overtime fees. He said moving forward, there were plans to reduce the payout to around $500,000 per year.
On Tuesday, around 100 BEWU members demonstrated outside BEC's main offices and got into a heated confrontation with Mr Miller as he got out of his car.