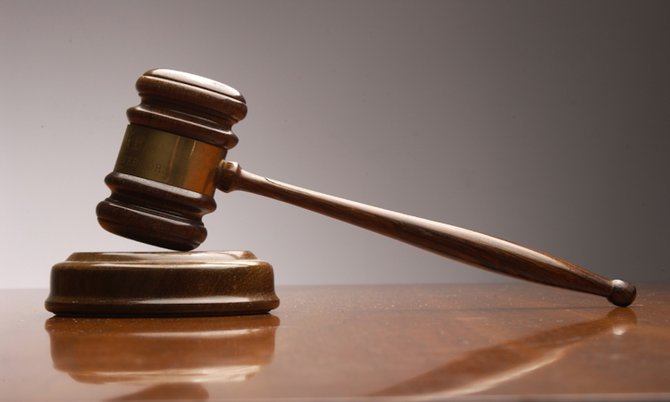 By LAMECH JOHNSON
Tribune Staff Reporter
ljohnson@tribunemedia.net
A WOMAN was sentenced to seven years in prison yesterday for the stabbing death of her boyfriend, who a judge said was "the author of his own demise" in a "heart-rending" case of domestic violence.
Justice Indra Charles said she had "long, sleepless nights" trying to determine an appropriate sentence for 24-year-old Halicia Smith who, she said, had appeared remorseful for the events on the ill-fated evening of May 3, 2012, when Aldean Gibson Jr died. Justice Charles said Smith "has made some colossal judgment errors and for that she ought to be punished."
The punishment, the judge noted, had to be balanced against the peculiarity of the case and despite an obvious solution to Smith's relationship woes, "it's easier said than done that one should leave such relationships."
"In the 16th century women were treated differently than men when they killed," the justice said. "When a man killed his wife, it was comparable to as if he had killed a stranger. However, when a wife kills her husband, it was comparable to treason. We have moved past those days. It's no longer okay for anyone to beat anyone. So these notions have to be dispelled in our society.
"No sentence this court imposes will please either party," she added. "I can see that family for the deceased and Smith are in court and, again it is unfortunate, but I have to rehash that the deceased is the author of his own demise."
The seven-year sentence for the Kerzner International employee begins from July 22, the date of conviction.
History of abuse
A week ago, Janice McKenzie, a senior probation officer at the Department of Rehabilitative and Welfare Services, told the court that in her interview with the convict, Smith had expressed remorse and said the fatal outcome of the evening in question was never intended.
Dr John Dillard, a forensic psychiatrist, also testified that Smith, in his interview and probing of her past experiences of domestic abuse leading up to the evening in question, had described and displayed symptoms consistent with that of one suffering from Post-Traumatic Stress Disorder (PTSD).
He concluded that PTSD and fear of harm from previous abuse, likely impaired her judgment on the day in question.
Smith's lawyer, Wayne Munroe, asked the court to strongly consider imposing a non-custodial sentence for the 24-year-old, who he said was a victim of domestic abuse up to the fatal stabbing.
He said any other penalty would not send a good message to victims of domestic violence.
Prosecutor Cordell Frazier, however, was of the view that 18 years imprisonment was an appropriate punishment.
The prosecutor acknowledged that while Smith was young and had no prior criminal history, the deceased had been stabbed by a knife brought to the premises by Smith. Ms Frazier also stressed that Gibson Jr was unarmed.
The sentence, she said, must send a message to society that such behaviour will not be tolerated.
With a full week's time to reflect on the matter before her, Justice Charles informed the Crown and defence counsel yesterday that she had come to a decision and would provide the written ruling at a later stage.
"I don't wish to go into all of it but the summary of the facts are that the defendant (Smith) and the deceased were involved in an altercation (at) approximately 10:30pm that took place by the defendant's house," Justice Charles said.
"The deceased prevented her from leaving with the child when he refused to give her the car keys and her phone. An altercation ensued and the defendant was punched and pushed. At some point, she managed to escape the deceased and locked herself in a room for 15 minutes."
"It appears to me that the deceased was preventing her from leaving and those were the words that were coming to me as I considered an appropriate sentence, as did the simple question 'Why did he not give her the keys and the phone?' Had he done so, we'd likely not be here today in these circumstances," she said.
Justice Charles noted that sentencing is difficult for any judge, which is why courts rely on guidelines to assist them in arriving at uniformity punishments.
Justice Charles referred to Wednesday's sentencing of Fritznell Guillance to 18 years imprisonment after he, initially to be tried before her for murder, pleaded guilty to the lesser charge of manslaughter concerning the January 26, 2013 killing of Alfred Munroe.
Guillance got into an argument before leaving the scene and returning and fatally shooting Munroe.
"I say that just to say that every case must be considered on its own peculiar facts," Justice Charles said.
"This killing took place in a domestic context, and having said that, I don't think we know what domestic violence really is and I say we the prosecutors, the police, and the court itself because (domestic violence), it's an evolving concept.
"Why don't they leave? Why do victims of domestic violence stay in a relationship to be verbally abused and physically abused? It's never a simple answer and I also want to say that women aren't the only victims. Males are also victims of domestic violence," the judge added.
"This case is very unfortunate, in fact heart-rending because of the loss of a young man's life, a grieving family and a child has been left behind. It is difficult to imagine what the grieving family must be feeling. However, no punishment, in my mind, can bring back the deceased. Sad to say, the deceased was the author of his own demise."
In addition to sentencing Smith to seven years imprisonment, Justice Charles ordered that she undergo counselling while incarcerated at the Department of Correctional Services.
"Nobody wins in a case like this," the judge concluded.