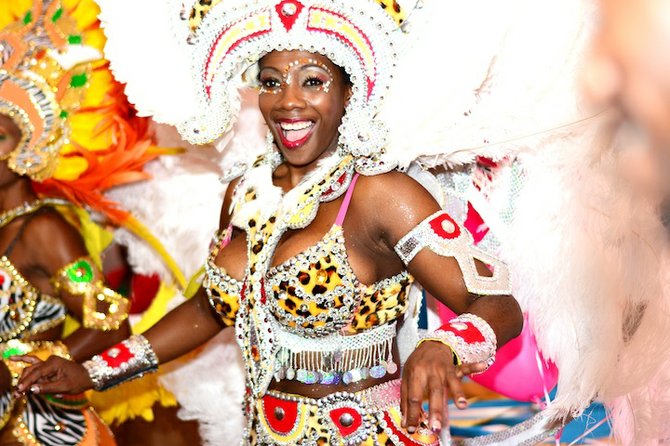 By ALESHA CADET
Tribune Features Reporter
acadet@tribunemedia.net
IF LAST Saturday was any indication of what the 2015 Bahamas Junkanoo Carnival is going to depict, then Tribune Entertainment can say that it will be filled with bright colours, high energy and live entertainment with fun at the centre of it all.
The Road Fever Costume Expo Launch at the Melia Resort, Cable Beach, featured 26 of the Road Fever companies that showcased samples of their costumes.
Attendees and participants had the opportunity to view the costumes and become acquainted with the various group members and find a company to register with.
It was evident that a lot of time and effort were put into the works on display, as the companies brought out costumes big and small, ranging from looks that portrayed "The Lion Fish" and "Underwater Sea Goddess" to the "Eden Girls", Pink Flamingos, circus acts and many more.
The Bahamas Junkanoo Carnival will be an annual event, spanning five weeks, and will kick off on Easter Monday.
The event will feature a series of activities, including concerts, cultural shows, balls and street parades, which will depict all aspects of Bahamian culture and heritage. One week will also be set aside and will be known as 'Carnival Week'.
The first Bahamas Carnival Week is scheduled for May 3 to 9, 2015, when ufour major events will be staged. The Road Fever will be held on May 9.
Roscoe Dames, Bahamas National Festival Commission CEO, said at the launch that the amount of people coming on board in terms of participation is overwhelming.
"The groups are telling us that not only Bahamians are reaching out to them but their friends from overseas are reaching out too, " Mr Dames said. "A lot of the groups have already identified a few hundred people that are coming to their groups. We want the world to come and see how we celebrate ourselves as a people."
Having worked with the Road Fever Companies for months, Mr Dames said to see their ideas come to fruition is amazing.
"Looking at all of this today for a first time carnival, it looks like we have been doing this for a while," he said.
"With our history with Junkanoo costumes and parades, the transition is very easy for them to move from one phase of our cultural development to another. This isn't all new to us, it is just putting it all together in this format so that we can celebrate in a different way. At the end of the day we are still celebrating ourselves."
Stars Carnival Group co-founder, Andre Joseph, said the theme for their group is entitled "Bahamas Explosion." With their costumes, he said they wanted to bring something that is tasteful but still represent what carnival is like.
The Bahamas Explosion theme will cover the Bahamian flag colours that will be displayed in four sections of the Stars Carnival Group's Road March.
"The four sections are built up for men and women to come out and have an all inclusive package deal.
"The first section is called Azul, meaning blue, and within that specific section, the males will display the Blue Marlin and the females will represent the seas and the waters. The second section is called Sole, representing the sun. It is going to depict the islands and resources. The third section is called Mystique, which represents the power of the people. The fourth section focuses on the national bird of the Bahamas, so it will be a lot of reds and pinks coming out of that," said Mr Joseph.
Under the theme "Oceans Of Enigma", the Enigma Carnival group members encourage viewers to experience the passion and unleash the spirit of Junkanoo and Carnival with them on May 9.
"We are presenting all the mysteries of the waters of the Bahamas," said Anthony "AC" Coakley, Enigma Events Coordinator and Operations Director. "We took a mystical approach to the whole thing. The costumes range from a Parrot Fish, Coral Fire, The Queen of Pearls and much more. We all are Junkanooers and this gives us another avenue to create. Our team is a team of Junkanooers who have been participating for over 100 years collectively."
He said when the idea came to put it all together in a Carnival fashion, they were all in, and that it is all about fun and creativity for Enigma members.
"Persons can expect from us just the best they would see on any road march or runway around the world. With Junkanoo, cardboard would only allow you to fashion it so far, and Carnival gives us the opportunity to step out of that box with no limits.
"This is just a peek into what we will be presenting. We haven't had our official launch party as yet but people can definitely keep up with our Facebook page to be notified soon," said Mr Coakley.
Photos/Shawn Hanna