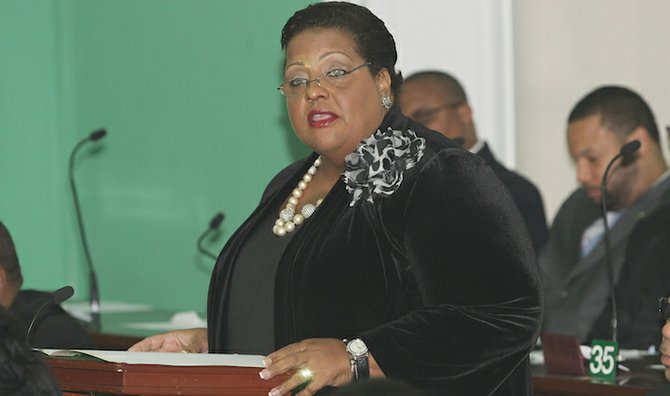 By KHRISNA VIRGIL
Tribune Staff Reporter
kvirgil@tribunemedia.net
FNM Deputy Leader Loretta Butler-Turner revealed for the first time yesterday that party chief Dr Hubert Minnis initially did not want her as his second-in-command.
"Dr Minnis had told me a few days before the (2012) convention that he did not support me to be his deputy. As a matter of fact he was giving his support to one of my opponents, which would have been Desmond Bannister at the time," Mrs Butler-Turner said as a guest on the ZNS radio talk show "Darrold Miller Live".
She added: "To have said it to me, I didn't think it was fair to me, be that as it may that was what his preference was and that's what he shared with me.
"In politics we've got to unify our forces and to ensure that we represent the views of the people that we represent and remember who the true opponent is."
Mrs Butler-Turner was responding to a caller who questioned whether she had spoken to Dr Minnis about her political aspirations.
In a later interview, The Long Island MP confirmed to The Tribune yesterday that she was still canvassing people and weighing her options on a potential leadership run based on the "limited feed back" she has received so far.
These latest comments give further insight into the relationship between Dr Minnis and Mrs Butler-Turner despite attempts by both over the last few months to downplay rumours that there is a rift in the party.
On Sunday an FNM insider said rivalry between party leaders was hurting the organisation as it remained clear that Dr Minnis and Mrs Butler-Turner were at odds.
The insider called for Mrs Butler-Turner to resign her position as deputy leader of the party.
"It's time for Loretta Butler-Turner to step down as deputy leader because she is allowing her political ambitions to destroy the party," the FNM said. "Lorry deserves some credit for down-playing the North Abaco confrontation, but nobody believes her."
The comments were in direct response to a party that took place in North Abaco earlier this month where it was claimed Mrs Butler-Tuner "snubbed" Dr Minnis. However, she has insisted that the gathering was a private event put on by her supporters as she canvasses the country to see how much support she has for a leadership run.
She has told The Tribune that Dr Minnis arrived at the party uninvited, two hours late and with his wife, but insists she greeted him warmly and he enjoyed hospitality at the event. However, she said, she did not allow Dr Minnis to speak at the party because she did not think it was appropriate.
In June, Mrs Butler-Turner said she was considering running for party leader at the FNM's next convention.