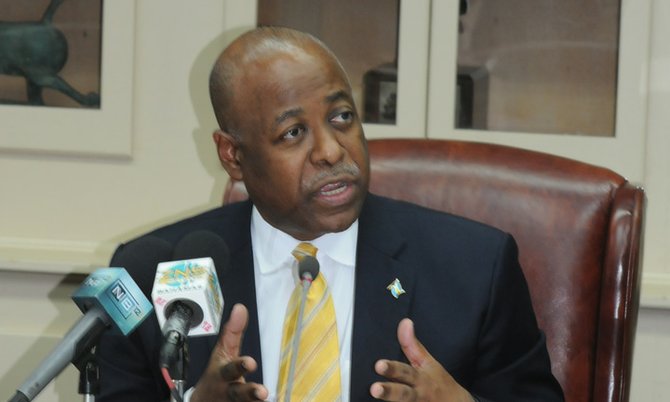 By AVA TURNQUEST
Tribune Chief Reporter
aturnquest@tribunemedia.net
TWO international gaming consultants could settle in for a year-long training initiative to transition webshops into a regulated market as early as next week.
Tourism Minister Obie Wilchcombe yesterday confirmed that the government is considering representatives from a firm in England and another in the United States to train Bahamians on new technology to regulate the industry.
While costs associated with bringing in the consultants for a year-long residency have not yet been finalised, Mr Wilchcombe said casinos and webshops will foot the bill.
He explained that the $1m the government received from the two entities for training has already been exhausted.
"They (the consultants) will be guiding us on the regulations, the monitoring of the system, it's technology we have never used before," he said.
"We need to bring people in to train our people. We're hiring Bahamians but they have to train Bahamians in certain technology that we have never utilised before."
"We've gone into a new era," Mr Wilchcombe said, "and because we have never been in some of the technological aspects of gaming we are now incorporating that into our new offering, and because we have to do that, you have to prepare the people. Some of our people will be going off to train in Las Vegas."
Mr Wilchcombe said that the government is likely to hire up to 100 people to staff various regulatory positions in the industry.
"We're looking for accountants, we're looking for lawyers, we're looking for individuals who are technologically savvy. We're looking for a whole new breed of people to work in the industry."
Mr Wilchcombe said it was still unclear whether there will be a closure period for licensed webshop owners to integrate the new system; however, he maintained that the closure of unlicensed number houses will be immediate once the transition is made to the new regulatory framework.
When asked how the government expected to shut down unregulated shops given prior failures, Mr Wilchcombe said, "because the law demands it's closed now".
"We're not sure yet (of closure period), we'll have to work that through," he said.
"There are a number of things that will have to be introduced, and the technology has to be integrated. Our technology will have to be integrated with their technology to make sure we can monitor, so all these things will have to be looked at. There is no fixed position on that yet, because, of course, we are walking through a new paradigm and as we do that we have to understand what we're doing, what you don't want to do is commit yourself to certain things that you can't live up to."
Mr Wilchcombe added: "What's certain is that the law will be carried out and we will ensure that the integrity of the gaming industry is maintained."