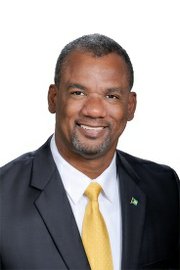 By KHRISNA VIRGIL
Tribune Staff Reporter
kvirgil@tribunemedia.net
EDUCATION Minister Jerome Fitzgerald yesterday reiterated that the terms of Dr Rodney Smith's contract as the new College of the Bahamas president will "remain reasonable" and in line with that of former presidents.
His comments came after it was revealed that Dr Smith requested a salary of $400,000 during employment negotiations with COB. Since the news broke, some commentators have criticised Dr Smith's salary request as outlandish.
The government has also come under fire for announcing Dr Smith as its pick for COB president before going into talks with him over salary and benefits.
According to the minister, Dr Smith's financial terms could not be negotiated before the Cabinet approved his appointment as college president. Once approval was received, Mr Fitzgerald said he then authorised the College of the Bahamas College Council to negotiate with Dr Smith, subject to certain conditions.
The conditions to which Mr Fitzgerald was referring were outlined in a previous statement he had made during a press conference to announce Cabinet's approval of Dr Smith as COB's new president. He made the remarks on August 20.
"I now, therefore, authorise the College Council," he said at the time, "to negotiate reasonable contract terms with Dr Smith consistent with terms agreed previously with former presidents taking into consideration the usual cost of living increases.
"I also wish to indicate that Cabinet was also united in the view that if financial terms and benefits can be agreed with Dr Smith that the terms of the contract in the first instance should not exceed three years with the usual option to renew."
In an email sent to the media yesterday, Mr Fitzgerald said: "Cabinet only accepted the recommendation by the Council to appoint Dr Smith as president. That acceptance came with two conditions. The Council could not negotiate terms prior to receiving approval from Cabinet. Once that was received, I then authorised Council to negotiate subject to certain conditions.
"As I stated in my statement, given the circumstances, this was a reasonable and prudent approach."
On Tuesday, Union of Tertiary Educators of the Bahamas President Mark Humes struck back at the criticisms hurled at Dr Smith saying they were "excessively harsh". The Nassau Guardian reported on Monday that Dr Smith was requesting a salary of $400,000 with other benefits.
While he was selected in August as COB's president, the terms and conditions of his presidency have not been finalised and are still being negotiated.
Mr Humes said: "I think the reports are excessively cruel and unfair. The reports come across as just more politics being levied at this man. I say that because for something like (his requests) to be made public by a member of the committee is sort of unfair to him. In making a proposal for employment, it is never unreasonable or unexpected that the individual seeking employment may ask for a salary that may be in the high range."
Mr Humes also criticised College Council heads for waiting so long to address the terms of Dr Smith's employment.
Yesterday COB released a statement that expressed "alarm" over some of Mr Humes' statements.
COB said: "It is disingenuous for the UTEB President to publicly express surprise at the handling of the presidential appointment process when he was intimately and ardently involved at every stage of that process.
"The College is also alarmed that the UTEB President is so free with confidential information and strongly advises (him) to adhere strictly to his obligations as a Council member.

"The union leader's vociferous campaigning and public relations on behalf of Dr Smith's candidacy is unprecedented and certainly out of the norm; one would be hard pressed to recall such a conspicuous effort on the part of any union leader at COB or elsewhere.
"Mr Humes' behaviour seems to suggest that UTEB intends to give the prospective new president its full and unequivocal support in all his future efforts on the college's behalf."