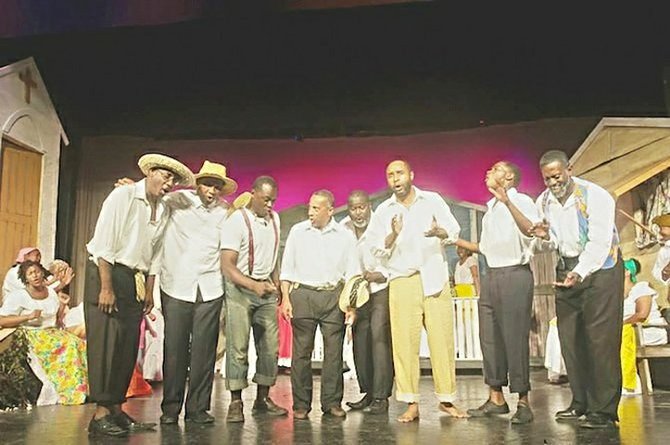 NEARLY 15,000 viewers tuned in to Cable 12 last Sunday to watch the television premiere of the celebrated Bahamian folk opera "The Legend of Sammie Swain", E Clement Bethel's timeless musical about a disabled Cat Island man who sells his soul to the Devil to be with the village beauty.
The broadcast of the stage production by Cable Bahamas drew one of its highest audiences for a single programme and served as the official opening of the 2014 Shakespeare in Paradise festival, which begins tonight and ends on October 11.
The "Sammie Swain" story resonated with thousands of residents, scores of whom took to Facebook to voice their opinion of the stage production. According to the viewers, many aspects of Bahamian customs and values were depicted in "Sammie Swain," put to music by Mr Bethel in 1971 from the Sammie Swain story written in The Tribune by its editor and publisher, the late Sir Etienne Dupuch.
"Great expression of Bahamian culture ... seriously! Very entertaining, too," one viewer commented on Facebook. Another review read "Good community enrichment of Bahamian folklore".
Cable Bahamas' Head of Marketing David Burrows said that one of the wholly Bahamian-owned company's core objectives is to feature a variety of shows that will provide viewers with a multi-disciplinary analysis of Bahamian culture. He noted that the tremendous response to "Sammie Swain" indicates that the Bahamian public shares an interest in seeing more original programming.
"It's very exciting that a locally written and produced production, starring a Bahamian cast, would get such high viewership in the face of competition from 400 other channels. It speaks volumes to the quality of production," Mr Burrows said. Cable 12 will re-broadcast "Sammie Swain", featuring its 70-member revival cast, on Saturday at 5pm, October 13 at 8pm, and October 27 at 7.30pm.
The Shakespeare in Paradise season comprises five productions at the Dundas Centre for the Performing Arts, Mackey Street: "Romeo and Juliet"; "For Coloured Girls Who Have Considered Suicide When The Rainbow Is Enuf"; the South African play "Sizwe Banzi is Dead"; performances by Tingum Dem; and "Bruce Katooska: Laughter is the Best MAGIC!"
Tickets for this year's signature production, "Romeo and Juliet" are sold out for eight of the 12 performances. Thanks to the Cable Bahamas Cares Foundation, a festival sponsor, students across New Providence were able to see the production during the available student matinees at reduced rates.