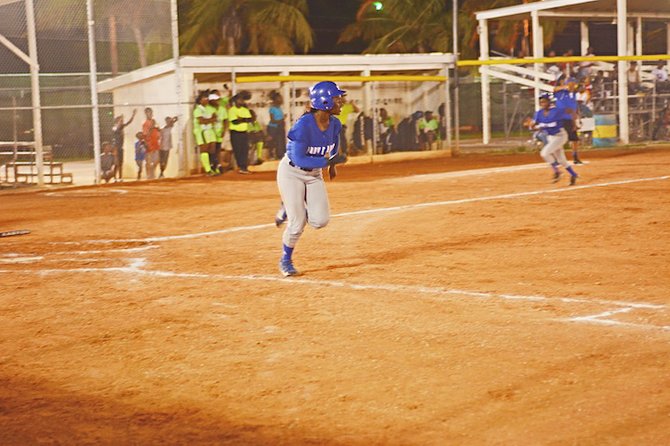 By BRENT STUBBS
Senior Sports Reporter
bstubbs@tribunemedia.net
THE College of The Bahamas Lady Caribs and the Arnette's Sporting Lounge Hitmen avoided getting swept in their respective New Providence Softball Association's best-of-five playoff series on Saturday night.
In the ladies opener at the Banker's Field at the Baillou Hills Sporting Complex, the Lady Caribs stunned the Sigma Wildcats 10-3 to cut their deficit to 2-1, thanks to a one-hitter from Ashanti Darville.
And in the men's feature contest, despite the absence of ace Alcott Forbes, the defending champions Hitmen went on to out-slug the BTC Elite Warriors 11-10 to also trim their deficit to 2-1 as Duval Storr picked up the slack.
Both series will continue on Thursday, while the other half of the playoffs will pick up tomorrow when both defending champions, Sigma Brackettes and the Sting Truckers, could complete a sweep of the Black Scorpions and the Chances Mighty Mitts respectively.
Lady Caribs 10
Wildcats 3
Ashanti Darville tossed a one-hitter and struck out five and her battery mate Helena Curry went 4-for-5 with a run batted in (RBI), scoring twice to lead the College of The Bahamas (COB).
The Caribs, managed by the husband and wife team of Colin and Oria Knowles, came up with two runs in the first, one in the second, three in the fourth and four in the sixth to seal the deal to now trail the Wildcats 2-1.
"I felt like we really played like our team is capable of playing," Darville said. "We showed our talent and our skill level in this game and we really pulled through because we really wanted this victory."
Darville came up big, leaving the Wildcats with runners in scoring position in the first and second innings before she gave up two runs in the third. And after giving up the final run in the fifth, she left the bases loaded as she duplicated a 1-2-3 feat like she did in the fourth.
"That was awesome. I didn't realise that it was a one-hitter," Darville said. "I was just determined now to go down without a fight."
Nor did her team-maters. They rallied behind Darville defensively and offensively behind Curry, who sparked each of the four scoring innings.
What Curry didn't do, COB got from Jodi Clarke, Yvanna McDonald, Tyrice Curry, Richara Bain, Okia Rose, Kendera Bethel and Elrika Gibson, who all either contributed by getting on base with a walk or hit and scoring a run or two.
The Wildcats got a pair of runs from Candice Smith another from Khatrel Dorsett, but manager Anthony Bullar said if they didn't take COB for granted, they could have been preparing for the Carl 'Bang Bang' Johnson best-of-seven championship series.
"We started off flat and tried to play catch up, but you can't take anybody for granted," he said. "Anytime you do that, you could find yourself in trouble, regardless of who the team is. This is the playoffs. We can't bring ourselves down to their standard. These girls could hit. We just couldn't turn it on."
Mechelle Moss got the start, but after giving up three runs on three hits in the first two innings to get tagged with the loss, she was replaced by Mary 'Cruise' Sweeting, who went on to issue seven hits with two strike outs in the third. Sweeting started and finished her job with the strike outs.
Now back in the series, Darville, the team captain, said once she can get some rest and motivate her teammates, they should be able to come back on Thursday and give the Wildcats another run for their money.
Hitmen 11, Elite Warriors 10
Just when it seemed as if they were done, Arnette's Sporting Lounge jumped out to a 6-5 lead in the second and extended it 10-6 in the fourth and they held off every challenge by BTC to stay alive.
"The team just showed some heart. They came out and after letting them get away with the first two games, we played with a lot of heart," said Hitmen's manager Darren Stevens. "I just hope that it can carry over to the next game."
In game four on Thursday, they will have ace pitcher Alcott Forbes back in the line-up after he got ejected in their loss in game two on Wednesday night.
"I know they don't want to see him. That's why they tried their best to stop us tonight," Stevens said. "Hopefully we will have him back and that would help us to turn this series around."
Elite Warriors' manager Erin Adderley begged to differ. "That's who we want. He's the best pitcher in the country so we want to put him to the test," Adderley said. "We will be ready and better prepared than we were tonight."
BTC broke the game open in the top of the first when Sherman Ferguson sparked the run with a RBI single. Richard Bain added a run-producing single, Greg Gardiner had a two-run single and Charles Gaitor finished it off with a RBI single.
Arnette's Sporting Lounge got on the scoreboard in the bottom when Keiron Munroe doubled and scored on Edron Knowles' RBI single.
The Hitmen held the Elite Warriors scoreless in the second and they came up with five runs on five hits in the bottom as Rashad Seymour had a RBI single and Angelo Dillet a RBI triple to go up 6-5.
In the third, Arnette's Sporting Lounge added four more runs on five hits in the third with a two-run double from Dillet and a run-producing single from Adrian Pinder to go ahead for good at 10-5. The Hitmen's final run for an 11-5 was in the third on a RBI single from Prescott Wilson.
BTC got another run in the fourth as Ken Wood singled, stole second and scored on an error for an 11-6 deficit and they put three more on the scoreboard in the fifth, surged by a RBI double from Gardiner and RBI ground out from Anton Rolle.
But the highlight of the game came in the sixth, when Sherman Ferguson cracked a towering one-out solo home run deep over the left field fence to put the icing on the cake.
"We couldn't close tonight. They came out in desperation mood and they came and they played well," Adderley said. "They got their hits and we didn't. We didn't cash in like we did in the first two games."
This week'a schedule
Tuesday
7pm: Black Scorpions v Sigma Brackettes (L).
8.30pm: Chances Mighty Mitts v Sting Truckers (M).
Thursday
7pm: Sigma Wildcats v College of The Bahamas Lady Caribs (L).
8.30pm: BTC Elite Warriors v Arnette's Sporting Lounge Hitmen (M).