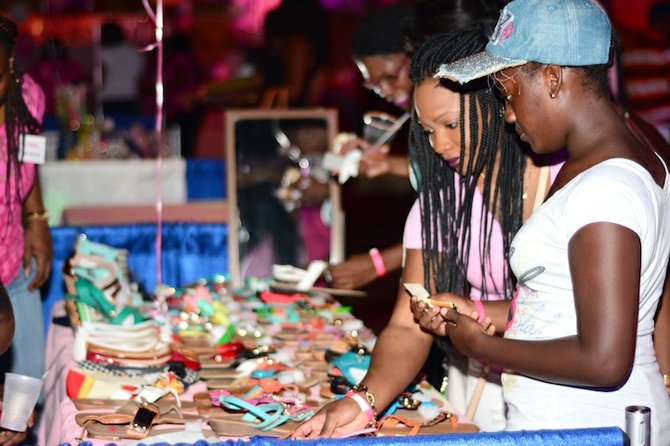 By JEFFARAH GIBSON
Tribune Features Writer
jgibson@tribunemedia.net
SOLIDIFYING its commitment to create continued awareness of and "strike" against breast cancer, Mario's Bowling and Entertainment Palace hosted its "best ever" Paint Da Lanes Pink event at the weekend.
The event this year was held under the theme "Bowl, Browse, Buy, Bon Appetite" and was Mario's way of getting its serious message of early detection across - especially to women - in a fun environment.
According to Leslia Miller-Brice, organiser of Paint Da Lanes Pink, Mario's wanted to host a community oriented event that would support a cause that impacts women not only during the month of October (Breast Cancer Awareness month) but every day of their lives.
"With the braca 1 and braca 2 gene being the highest in the Bahamas, ranking number one in the Caribbean, we just thought that we should make people aware," Mrs Miller-Brice said. "In doing our research we found that there are 14 -year-olds getting breast cancer and we felt the need to do something. Our facility is open to a vast range of clientele, so we figured let us go all out for breast cancer because awareness is key."
Paint Da Lanes Pink this year included two special features for which Mario's partnered with Five Seasons Bridal and Atlantis, who hosted "Cancer Survivor - Wedding in Paradise" on Saturday, to provide a honeymoon for the wedding couple. Mario's also teamed with Faces Inc to give a makeover to a cancer survivor.
Mrs Miller-Brice said the event has grown by leaps and bounds since its inception three years ago.
"Our first year we had maybe 33 booths, last year we had 47 and now this year we had 71 booths on board,"she said. "This year all of our proceeds go to Cancer In Paradise, where we are sending the bride and groom on their honeymoon.
"Mario's is just here to give back to the community and bring awareness to breast cancer. There is a lot that we do throughout the year and breast cancer awareness is just one of the things that we place a special effort on. Other organisations come to us for passes; we have kids from the Ranfurly Home here all the time.
"So we just do a lot of outreach that people do not know that much about. We opened our doors four years ago for this very purpose."
Dr Pamela Carroll, an obstetrician gynaecologist, was on hand at the event to give information and answer all female health-related questions.
"I was asked to come here to give general information about when to do breast exams, the importance of breast exams, how to do a breast exam, when you should start with your breast exams and also give other general information related to the female patient such as contraception, pap smears, fibroids and things like that. So I serve as point of contact for female issues," she said.
Though Dr Carroll said it was her first time offering information at Paint Da Lanes Pink, she has participated in similar events.