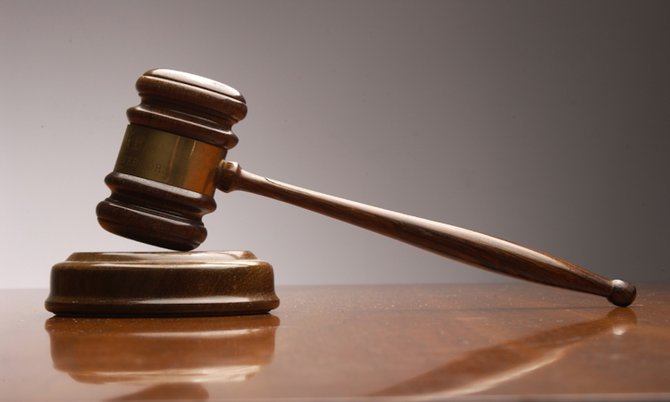 By LAMECH JOHNSON
Tribune Staff Reporter
ljohnson@tribunemedia.net
A DEFENCE Force marine was one of several persons arraigned in Magistrate's Court yesterday in connection with four separate firearm and ammunition seizures last weekend.
Philip Adderley, 23, of St Vincent Road appeared before Chief Magistrate Joyanne Ferguson-Pratt facing a count of possession of an unlicensed firearm and possession of ammunition.
It is claimed that Adderley and 23-year-old Steven Wemyss of Blackson Avenue were in possession of a black Sig Sauer 9mm pistol and five live rounds of 9mm ammunition on October 6.
Shortly after 2:30am on the day in question, Mobile Division officers found the handgun with a quantity of ammunition in a white Honda Accord vehicle at Faith Avenue North after acting on a tip.
Both men pleaded not guilty to the allegations.
Police prosecutor Inspector Clifford Daxon did not object to bail for the accused on the basis that they had no record of antecedents or pending matters before the courts.
They were each granted $10,000 bail on condition that they report to the Carmichael Road Police Station on Tuesdays and Thursdays on or before 6pm.
Chief Magistrate Feguson-Pratt strongly advised the defendants not to interfere or have contact with the witnesses in the matter. The case was transferred to Court No 1 for trial.
Adderley has retained Romona Farquharson-Seymour to defend him while Tai Pinder represents Wemyss.
In another arraignment, 43-year-old Kirkwood Charlton pleaded not guilty to possession of an unlicensed shotgun and possession of ammunition with intent to supply.
It is claimed that while at Marsh Harbour, Abaco on October 3, he did not have a permit to have a Remington 12-gauge shotgun and 25 live Winchester 12-gauge shotgun shells.
He also was granted $10,000 bail and is scheduled to return to Magistrate's Court on October 20 for a status hearing.
Then a 19-year-old, who the chief magistrate had mistaken for a minor because of his appearance and height, was accused of being in possession of a .357 revolver and six live rounds of ammunition on October 5.
Kenrick Riley of Golden Isles Road pleaded not guilty to the charges of possession of an unlicensed firearm and ammunition and is set to appear in court no.5 on October 15 for a trial date.
In the last arraignment, a man on bail with an electronic monitoring device, faced possession of an unlicensed firearm and ammunition charges.
It is claimed that 22-year-old Rodney Tilien and 23-year-old Yoshabell Hall were in possession of a black Millennium 9mm pistol and 11 live rounds of ammunition.
Tilien initially pleaded guilty to the offences, but recanted on his previous position when the police prosecutor read a summary of the charges to the court.
Inspector Daxon did not object to bail for the female accused. However, he objected to a bond for Tilien on the basis that he had a pending matter before the Supreme Court that involved the use of a firearm that, to this date, had yet to be recovered.
The chief magistrate granted Hall a $10,000 bond, but denied bail to Tilien.
She informed them that they would stand trial in Court No 9 on January 29, 2015.