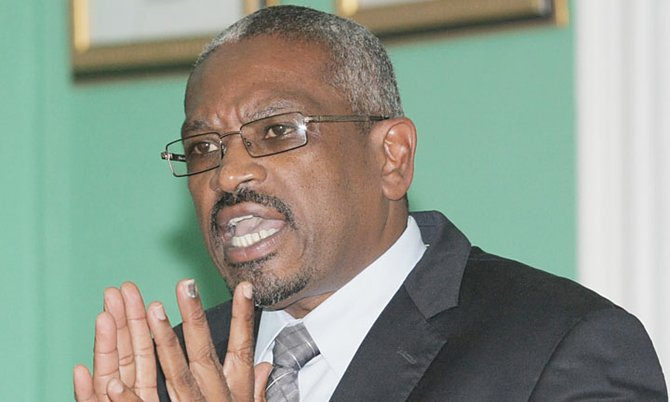 By RASHAD ROLLE
Tribune Staff Reporter
rrolle@tribunemedia.net
FNM Leader Dr Hubert Minnis urged the government yesterday to bring the Constitutional Amendment Bills to the House of Assembly for a vote and quit blaming the FNM for delays.
On Monday National Security Minister Dr Bernard Nottage announced yet another delay in the passage of the Bills through the lower chamber.
He said the government was acting on the advice of the Constitutional Commission, which felt it needed more time to ensure support for all four Bills from opposition members.
However, yesterday Dr Minnis said: "Don't blame us. We have always been for women equality. We brought the Bill forth in 2002 when the present government voted for it and changed their mind. The fact is, members in their own party don't support this Bill.
"The governing side don't need us to pass these Bills either. They have the numbers to pass it. There are a few members in my party with concerns about Bill number four, but the government's main issue is themselves and the fact that at least two of their members don't support it. If they bring Bills and can't get their members to support it, that's their issue."
"You cannot bring a referendum to the public when there is contention within your own organisation," he added, referring to Marco City MP Greg Moss and Fort Charlotte MP Dr Andre Rollins' decision to break ranks from their party and declare their unwillingness to support all the bills in their current form.
On Monday Dr Nottage said the government has been advised that three or four opposition members are unwilling to support Bill number four, which calls for an end to discrimination against people based on their sex.
Some people have concerns that the Bill could lead to same-sex marriage, although the government has denied this.
Dr Minnis shot down Dr Nottage's explanation.
"I don't know where they got that number of four people opposing it from," he said.
Dr Minnis said if he had been leader of the government, the FNM would not find itself dealing with members who don't support Bills as important as those pertaining to equal rights for men and women.
He said everything would have been "stressed and discussed thoroughly" before Bills were brought to Parliament if he was in charge.
FNM MP for Central and South Abaco Edison Key also told The Tribune yesterday that he is exasperated by the frequent delays in passing the Bills, which will lead to a referendum on the issues.
"I want to see equal rights for women in this country and for the children of them," he said. "The rest who want to be a sissy will be a sissy. Who want to be lesbian will be lesbian and there ain't nothing I could do about it. It's all over the world. It's in the churches. What I want to see is equal rights."