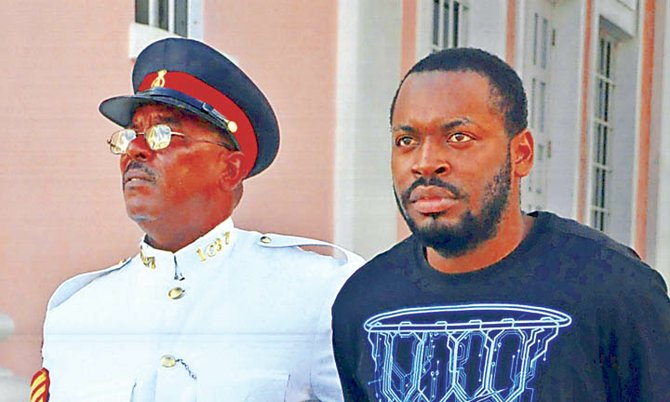 By DENISE MAYCOCK
Tribune Freeport Reporter
dmaycock@tribunemedia.net
DUDLEY Seide Jr was yesterday sentenced to 25 years in prison for the armed robbery of businessman Leslie Maycock, who was robbed and murdered five years ago in Grand Bahama.

Seide was convicted of armed robbery, but acquitted of the murder charge on August 26 in the Supreme Court. Corderold Wallace, who was initially charged with Seide, was acquitted of both charges.
During the sentencing, Senior Justice Hartman Longley said that Seide had committed a serious offence and imposed a 25-year custodial sentence on him. However, Seide, will only have to serve 20 years as Justice Longley took into consideration the five years he had already spent on remand awaiting trial.
Mr Maycock, 50, owner of the Hawksbill Mini Mart, was robbed and shot after closing the store on July 15, 2009. Two men accosted him in the parking lot and robbed him of a black pouch containing $700-$900 cash and his gold chain. The retired police officer was then shot in the stomach by the gunman.
Mr Maycock called his wife and the police and reported that he had been shot and was on his way to hospital. But he lost control of his vehicle and crashed at the roundabout on West Atlantic Drive.
He was taken by ambulance to the hospital, where he was admitted to the Intensive Care Unit. Mr Maycock died eight days later.
Seide was represented by Simeon Brown. Erica Kemp and Desiree Ferguson, of the Attorney General's Office, appeared on behalf of the Crown.