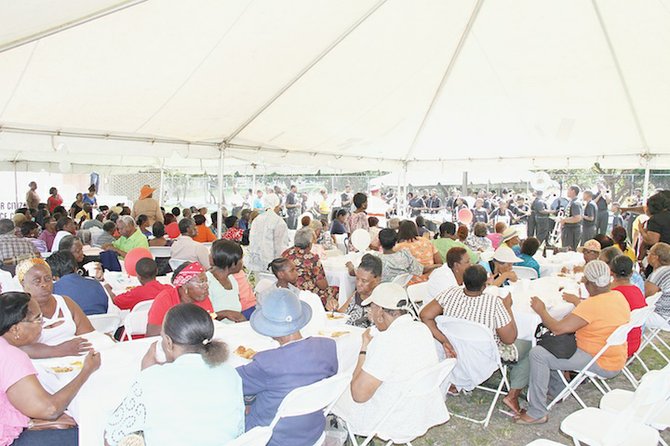 By KORTNEY RODGERS
AN Atlantis employee commemorated Older Persons month in the Bahamas by hosting her organisation's fifth annual Senior Citizens Festival at Arawak Cay yesterday.
Under the theme "Appreciating Our Ancestors and Mentors," Andrea Moultrie, Pit Manager from the Atlantis Casino and chairperson of the Senior Citizens Service Company, said the charity event was designed as an outdoor fun day to help recognise and uplift the elderly in the country.
"I feel as though the Lord rested this purpose or gifting on my spirit. It was something that I couldn't shake," Ms Moultrie said. "I like helping people and I don't like seeing elderly people mistreated. I want to make a difference in the lives of senior citizens and have people treat them better and appreciate them more because without them, where would we be?"
The festival, usually held on National Heroes Day, began in 2010 as an out-of-pocket venture by Ms Moultrie with the help of volunteers who catered to about 90 senior citizens. At present, the event provides fresh air, a full luncheon and entertainment for nearly 150 each year. Charlie The Yellow Bahamian, a recurring entertainer at the festival, is said to be "loved by all of the senior citizens" in addition to other forms of entertainment such as melodies performed by soloist Linda Bullard and poetry by Nathanial Adams.
The seniors also entertain themselves by sharing testimonials, singing and storytelling. This year, groups from the nine Urban Renewal centres, Sandilands Rehabilitation Centre, St Joseph's Adult Day Care, Demetrius Home and other senior citizens' homes in Nassau, witnessed a performance by 60 members of the Urban Renewal Band.
Director of St Joseph's Adult Day Care, Sister Cecilia Albury, told The Tribune that she is grateful for this event that allows the citizens to get out of the home for a few hours and associate with other seniors.


"Each year I've been coming with our seniors from St Joseph's Adult Day Care and I really appreciate Ms Moultrie and her team who really keep this going," she said. "Each year it seems to have more and more people attending and each time it gets better. This year we had the Urban Renewal Band which just topped it off. I just pray that we will have many more years here with Ms Moultrie and with the seniors who really appreciate what Ms Moultrie is doing."
Thankful for her helping hands, Ms Moultrie said the event would not be possible without her group of volunteers from the Atlantis Casino Table Games staff, family and friends and partial corporate sponsors Lowes Wholesale, Coca Cola Bahamas, Atlantis and the Family Medical Centre.
With plans to eventually have its own senior citizens home - "Lively Hearts Senior Citizens Resort" - the Senior Citizens Service Company plans to extend its invitation and increase the number of those attending by appealing for more individual and corporate sponsorship.
To become a sponsor or volunteer for the Senior Citizens Festival, email aasmoultrie@gmail.com.