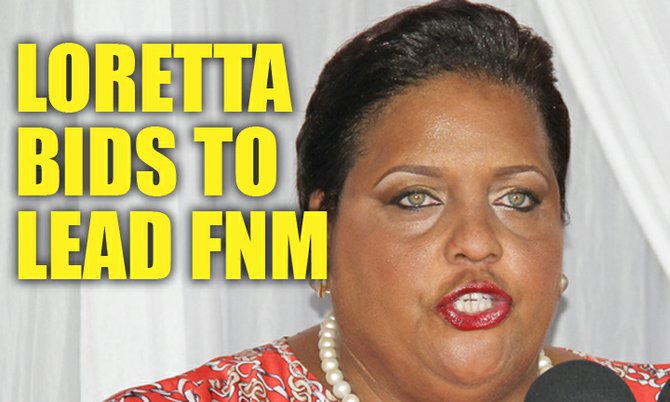 Reader poll
Yes, I think she would make a good leader 64%
No, I do not think she would make a good leader 36%
257 total votes.
By NICO SCAVELLA
Tribune Staff Reporter
nscavella@tribunemedia.net
FREE National Movement Deputy Leader Loretta Butler-Turner yesterday formally announced her intent to run against current Leader Dr Hubert Minnis at the party's convention next month.
Mrs Butler-Turner said that although she was "grateful" for Dr Minnis' services, the government needs to be corralled by a "firm leader of the opposition who will keep both eyes on them inside and outside Parliament."
Her announcement came days after she told The Tribune she had not made a decision on whether she would run for the party's top post due to her "shock" at a snap convention called by Dr Minnis last week.
"The opposition cannot wait and run out the clock until the next election," she said at a press conference at her home. "Given our constitutional role, we must be a more effective opposition today. I am running for leader because I believe that the FNM needs the quality of leadership that will attract more independent voters and young people, as well as a growing number of PLPs who are disturbed by the direction of the country today.
"The question of leadership today is not who is the best man for the job," she added. "As Dr Martin Luther King Jr reminded us, it is not about the colour of one's skin, but the content of one's character. So too, the question of leadership today is 'who is the best person for the job?'
"I believe that I am the most capable individual at the time to unite, to reignite and to lead the opposition in order to defeat a failed government."
Last month, FNM insiders told The Tribune tension was brewing between Dr Minnis and his deputy over the likelihood that she would challenge him when the party holds its next convention.
The sources maintained that a "war" was escalating between the two, and said the apparent rift was not good for the party, adding that the tensions increased the need for an early convention.
Last week, FNM executives met in a last minute meeting and decided to hold the party's convention on November 21, instead of early 2015 as originally proposed. Mrs Butler-Turner was in her constituency in Long Island at the time.
When she was advised of the purpose of the meeting, she sent Dr Minnis a letter which warned him that he was playing "a very dangerous game." She later told The Tribune that had Dr Minnis "bothered to advise" her of the meeting, she would have informed him that it was not a good idea to hold a convention "on such short notice."
The Long Island MP yesterday said her decision to go head-to-head with Dr Minnis came in response to "the call of many FNM's and the call of Bahamians far and wide, young and old, and from throughout our country," and after consultations with the FNM's Constituency Association.
She also said the government is "out of control" and the opposition must be led by someone who can "mount an effective opposition to a ruling party that has put their own interests above that of the Bahamian people."
Failed leader
"Prime Minister Perry Christie has given long years of service to the country, and I thank him for that," she said. "But, he has led a government that has failed dismally to deliver on their many promises to the Bahamian people. He has failed to lead.
"I wish to offer a new style of leadership and a clear vision about our shared future. I wish to build within the FNM a strong, inclusive team and party. I seek to lead my party to office so that we may offer the Bahamian people real and credible change and a new direction."
When contacted for comment on Mrs Butler-Turner's announcement Dr Minnis would only say he had "no response."
Mrs Butler-Turner did not take questions from the media after her announcement. However, updates placed on her Facebook page over the weekend foreshadowed the move and spoke of brewing "cannibalism" within the FNM's base.
"My fight is not against us, our leader or any FNM it is for party and country," she posted on Saturday. "Not long from now you will hear from me. In the meantime I shall watch from the sidelines as persons continue to try and get rid of me. I am not the enemy! We all have choices to make. Let us do it in the interest of what is best to take on our real enemy."
In addition to the leadership race, the contest for deputy leader is also expected to be contentious. Sources within the FNM said that party Chairman Darron Cash, Deputy Chairman Dr Duane Sands and former Chairman Carl Bethel are possible contenders for that post.