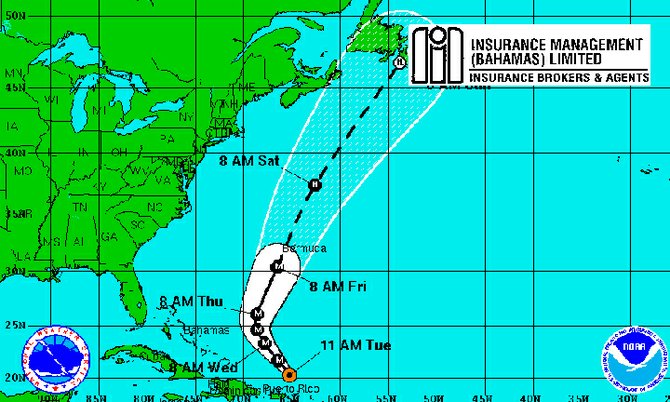 SAN JUAN, Puerto Rico (AP) — Hurricane Gonzalo churned up heavy surf across much of the Caribbean on Tuesday.
Hazardous surf was forecast for Puerto Rico, the U.S. and British Virgin Islands, the Turks and Caicos Islands and the southeastern and central Bahamas.
Forecasters said it could pick up strength and become a major storm as it approaches Bermuda.
Gonzalo was a strong Category 2 storm on Tuesday with top sustained winds of nearly 110 mph (175 kph) as it moved away from the U.S. and British Virgin Islands, according to the U.S. National Hurricane Center in Miami. Still intensifying, Gonzalo was centered about 830 miles (1,335 kilometers) south of Bermuda and moving northwest at 13 mph (20 kph).
The storm was expected to take a north-northwest turn late Wednesday and move over open waters toward Bermuda through Friday.
Forecast said it was likely to intensify and possibly become a Category 4 hurricane by Thursday. Category 4 storms have sustained winds of at least 130 mph (209 kph) with the potential to cause catastrophic damage.
"Folks in Bermuda are going to need to start paying attention to this thing," Dennis Feltgen, a National Hurricane Center meteorologist, said by phone.
Forecasters might begin issuing storm watches Wednesday if Gonzalo is expected to impact Bermuda, he said.
The storm forced Puerto Rico-based Seaborne Airlines to cancel several flights in the region Tuesday. Hundreds of people were left without power along the north coast of the island.