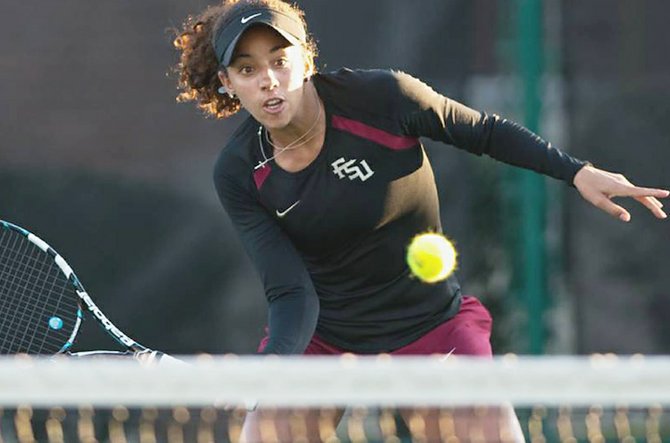 By BRENT STUBBS
Senior Sports Reporter
bstubbs@tribunemedia.net
KERRIE Cartwright, in her senior year at Florida State University, is making an impact in both singles and doubles for the Seminoles women's tennis team.
Over the weekend in Jacksonville, Florida, as the Seminoles competed in the Bedford Cup, Cartwright participated in both singles and doubles. In singles, Cartwright went down in the quarter-final 6-2, 6-2, but in doubles, she and Daneika Borthwick didn't make it past the first round.
Despite the results posted, Cartwright is currently ranked at 91st in singles, while she and Borthwick are pegged at No. 9 in doubles in the nation.
"I think I've been playing very well. I think I have a few things that I need to get better at and me and my coaches are working on them," said Cartwright, who a week ago competed for the Seminoles in the All-American Tournament that was held in California.
"I think I'm playing very well, even though there are a few things that I need to tweek and then I should be able to play even better than I'm doing right now."
From this Friday to Monday (October 17-20), Cartwright is scheduled to be back in action as she participates in the ITA South Regional Championships in Atlanta, Georgia.
"The goal is to win the tournament, but I just want me and my team-mate to do our best. I want to make it to the National Indoors because it's the biggest collegiate meet to compete in."
If Cartwright and Borthwick are successful in winning the South Regional title, they will automatically qualify for the National Individual Indoor Championships set for November 6-9 in New York in what would be the last tournament for the collegiate athletes this year.
The season is slated to pick back up on January 17 at the UAB Tournament in Tallahassee, Florida, and will wrap up with the NCAA Individual Championships in Waco, Texas, May 19-25, 2015. That will bring the curtain down on Cartwright's collegiate career.
This will be the second time for Cartwright to compete in he Regional, although the initial appearance came two years go when she competed for Tyler Junior College where they won their division in doubles and went on to compete in the nationals.
"I'm trying to do some big things," said Cartwright as she prepares for the rest of the tennis season. "I think the main thing that I have to work on is getting stronger in my legs and on my mental game, staying in there and playing the big points."
The 22-year-old Cartwright, who aspires to become a professional tennis player after her collegiate days are done, is the daughter of Kim O'Kelley and Sean Cartwright.