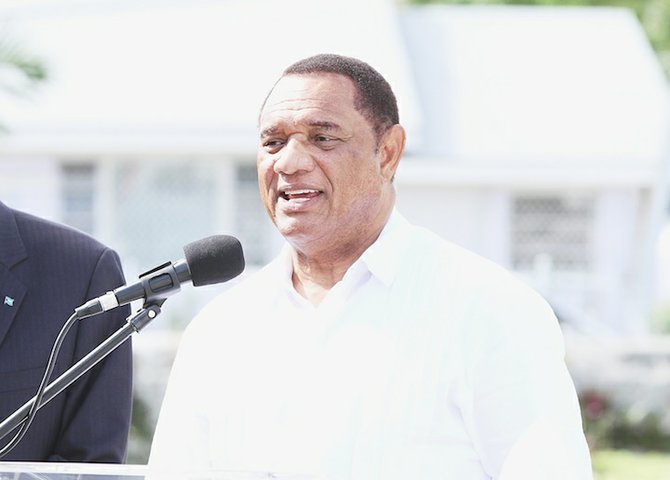 By SANCHESKA BROWN
Tribune Staff Reporter
sbrown@tribunemedia.net
PRIME Minister Perry Christie said yesterday he hopes when the government returns from its six-week recess, he will be in a position to bring the "long overdue" national honours system to fruition.
Mr Christie made his comments at the wreath laying ceremony at the Mausoleum of Sir Lynden Pindling to honour the 13 framers of the Constitution.
The new honours system is proposed to replace the Queen's Honours and will recognise national heros for their contribution to nation building.
"When the government goes back to parliament in about six weeks' time, I am hoping to have my colleagues to be in a position where we ourselves will agree that the honour system will happen soon," Mr Christie said.
"Recommendations will be taken to Cabinet in short order for deliberations. We will also be consulting during this process with various stakeholders – and of course the National Heroes Committee and other cultural persons and various personalities who have been involved in this process will be included.
"This public honouring will not only draw the necessary attention to deserving individuals but will be the best way that a grateful nation can say 'thank you'. We have been, in many respects, negligent of our heroes and our history. It is vital that every Bahamian, of every background know their history."
The Prime Minister also said the government is considering two locations for a National Heroes Park – a portion of Botanical Gardens or Clifton Cay, where the historic Whylly Plantation is located.
Deputy Prime Minister Phillip "Brave" Davis said on days like National Heroes Day it is important that "we stop and remember those men and women who helped to build our country from the ground up."
He said: "Each generation that comes along owes a debt of gratitude to the generation that came before them. The sacrifices, the toils and troubles of the previous generation must be remembered and we must pay tribute to them for all that they did. National Heroes Day is the day that we pause to do just that.
"This is only the second occasion that this holiday has been celebrated in an official way. It has been marked on this occasion for over a decade but the formal holiday was adopted by the executive just last year. Each generation that comes along puts its imprint on the history and the image of the country.

"This generation has chosen to part company with the past, not forgetting it but building on it. We choose to see the old twelfth of October as a day of encounter as opposed to a day of discovery. We choose also to shape a new future built on recognising on this day for the work of all those Bahamian souls of all races, colours, creeds who built the modern Bahamas."
The 13 Bahamians honoured yesterday were: Arthur D Hanna, Sir Arthur Foulkes, George A Smith, Philip Bethel, A Loftus Roker; Sir Orville Turnquest, Sir Lynden Pindling, Sir Milo Butler, Paul L Adderley, Cadwell Armbrister, Henry Bowen, Sir Clement T Maynard, Carlton Francis, Sir Kendal G L Isaacs and Norman Solomon.