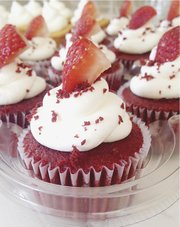 By ALESHA CADET
Tribune Features Reporter
acadet@tribunemedia.net
IT HAS only been a few months since twins, Deandra and D'shanti Pinder, turned what was once a hobby into a cup cake making business, but their treats have quickly become a sweet tooth must for Bahamians.
"Providing the best cupcakes on this little rock" is the message the 26-year-old sisters use to promote their brand Yummy TwinCakes.
The Pinders were raised in Governor's Harbour, Eleuthera, and as teenagers, they always enjoyed baking in the comfort of their home on the island. That love grew bigger after they moved to Nassau in 2005 to go to college.
As they got older, the sisters decided to lend a hand by baking a cake or two for church cook-outs and various bake sales where they would often receive positive and inspiring feedback. It became a thing to do for fun.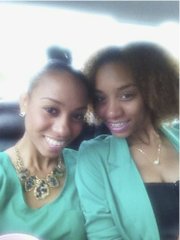 It was not until this year when they decided to take it a step further and present Yummy TwinCakes to the public.
Yummy TwinCakes' biggest customer base is in Eleuthera but the Pinders said they have many loyal customers in Nassau and the list is growing daily. Their first public appearance was at Sweet Fest 2014 at Pompey Square.
Deandra sat with Tribune Woman to share further insight on the brand, explaining she carries is the baker and D'shanti the cake designer and decorator.
"Both of us have full-time jobs; we work from 9am to 5pm every day. I am a Business Analyst by day and D'shanti is a Assistant Project Manager with Mechanical Engineering. It is completely different from the whole baking thing," said Deandra.
Due to their jobs, Deandra said it is hard to devote time to marketing but she is pleased that the clientèle is steadily growing. While Yummy TwinCakes is operated from their home, Deandra said they hope to open a store as business progresses.
"We work eight hours a day and sometimes longer because our jobs are kinda intense. But after all that we still make time to bake and decorate Yummy TwinCakes. D'shanti does the decorating because I can't draw to save my life and I am not trying to make a mess of someone's cake so that's all her. I am up about 3am on a lot of mornings and I don't get to bed until after 12am some days so I am up trying to prepare all of the baking before I head out to work and that is my typical day," said Deandra.
The list of Yummy TwinCake flavours include standards such as chocolate, vanilla and red velvet, as well as specialities like chocolate chip, strawberry lemonade, cookies and cream, and many more.
"It is mainly cupcakes that we do - we also do pull-apart cupcake cakes. We do make cakes but we are really not focusing on those right now, they are only made by special request. The overall goal of the company is to provide people with good quality cupcakes.
"I would not say that we are professional bakers or decorators at all, but people like what we do and it is fun. We just try to aim to please and give our best," said Deandra.
She said they have received incredible support from their fellow Eleutherans. "It is a really humbling experience and a lot of people are supporting us saying they are proud of what we are doing," said Deandra.
When asked about the Sweet Fest experience, Deandra said it was interesting and agood opportunity to feel what it is to do an event of that nature.
"There are a lot of things that we could have done differently to make it more successful but I think the experience itself was worth it. We have gotten a couple of customers from the event that came and placed orders with us afterwards," said Deandra.
Things got a little hectic hours before heading to Pompey Square but Deandra said the way in which the sisters keep each other motivated through it all brings them through trying times.
"I literally had the biggest meltdown possible. I started crying and said I didn't want to do it anymore. We were running late, the cupcake batters weren't working and everything possible that could have wrong that morning went wrong and I was just frustrated with it all," said Deandra.
She said D'shanti is good at pushing and reminding her that they are in this together. If she needs extra help with anything, D'shanti is always willing to help.
"She would get up early and help me out. Even with me helping her, I try to make sure that our orders are placed as conveniently as possible because since she is the one that is doing most of the decorating, it really has to fit into her schedule. It is a team effort," said Deandra.
The sisters have recently added the Guava Cupcake to the list of specials. The cupcake was conceived in an effort to create awareness and join the fight against breast cancer.
During October, customers can purchase a dozen of the new specialty flavour cakes for $23 with 50 per cent of proceeds donated to the One Eleuthera Foundation to aid their imaging programme.
One Eleuthera is a non-profit development organisation that was founded to identify and invest in unique, high-quality projects that strengthen Eleuthera's communities and further the economic, environmental and social development of the island.
"Since that is where we are from, it is important to us that we give back in some way and having the machine on Eleuthera would actually make it a lot more feasible to get the mammogram screening done.
It costs about $500 for the average woman to get it done per year. The ultimate goal is to help women fight the disease, beat it and win because a lot of people lose the battle due to being diagnosed late," said Deandra.
For information on Yummy TwinCakes and their breast cancer awareness initiative, visit their social media pages at Yummy TwinCakes on Facebook and YummyTwinCakes via Instagram. Phone 376-7859 and email.