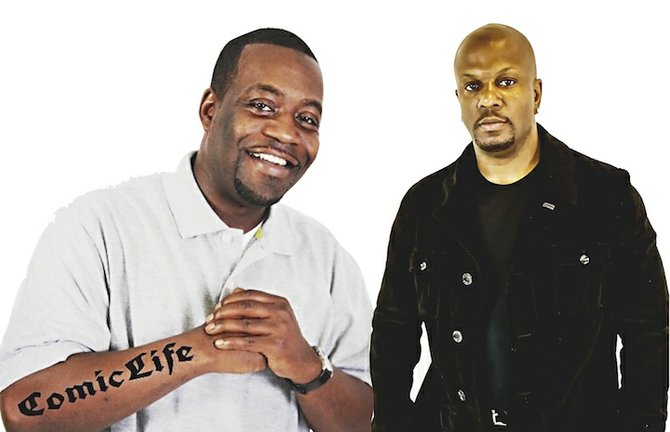 By ALESHA CADET
Tribune Features Reporter
acadet@tribunemedia.net
COMEDY show lovers know that when the name Phat Groove Entertainment pops up on an event flyer they are in for a good time.
Known for bringing star comedians to their Bad Boys and Bad Girls of Comedy shows, including names like Eddie Griffin and MoNique from UPN's "The Parkers", the Phat Groove Entertainment group has created a positive image and a name for themselves in the Bahamas.
This Saturday, at the National Centre for the Performing Arts on Shirley Street, the Phat Groove All Star Comedy Jam will feature comedians Marshall Brandon, Marcus Combs, Cory "Zooman" Miller, and will be hosted by Malik S and the Bahamas' very own Naughty. Doors open at 8pm and show time is at 9pm sharp.
"We have been doing this for about 12 years, and usually when we put together a show, we want to put together a show that is going to be funny from the beginning to the end. We always aim to bring different comedians that bring different styles. It wouldn't be like a break in laughs, it will be consistent from start to finish," said Levin Wilson of Phat Groove Entertainment.
He said they tend to bring in comedians that work well together, and this particular crew that is on its way to Nassau for the weekend's event, works almost perfectly together.
"We also like to throw in local comedians, so that is what we are going to get with Naughty who is well aware of topics that Bahamians can relate to. The most well-known comedian here would be Cory "Zooman" Miller, and his comedy is pretty much the art of impersonating people. He is famous for impersonating Barack Obama," said Levin.
He said they know exactly how much comedy to give and they do not put on long and drawn out shows.
"The All Star Comedy Jam is not going to be long and not too short; not stale, but just right," he said.
In the past, Phat Groove Entertainment has welcomed live band performances as well as integrated poetry at the beginning of its comedy shows. Levin said they try to do different things to keep it fresh.
The company is also known for other events such as their Epic First Fridays at Club Ibiza, which has been going well these past four months, according to organisers. The event is held in connection with Heineken and More FM.
While their events attract many party-goers, Levin said the All Star Comedy Jam is ideal for couples, providing a safe environment at the National Centre For the Performing Arts. There will also be an after party held at Ibiza following the show.
Levin said they are happy to host the show at the National Centre for the Performing Arts because it is where their comedy events originated in Nassau. He said for a promoter the theatre venue is not too big and it is not too small; it is just right.
"When we first started producing comedy shows with BET Comic View comedians, it was at that particular theatre. So for a lot of people who love comedy that venue is nostalgic. The psychology of comedy is more of a theatre style as opposed to a ballroom style, and that is exactly why we love them," he said.
Levin said for Phat Groove Entertainment the goal is to create a brand that can consistently offer three shows a year and can move throughout the islands, and hopefully throughout the United States in the near future.