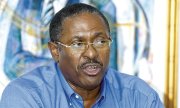 By KHRISNA VIRGIL
Tribune Staff Reporter
kvirgil@tribunemedia.net
A PLP disciplinary committee is expected to rule on the fate of embattled Ft Charlotte MP Dr Andre Rollins by the end of the month, party Chairman Bradley Roberts said yesterday.
Mr Roberts also taunted Dr Rollins over his statements that he would release information if Renward Wells was fired from his post as parliamentary secretary in the Ministry of Works over his reported unauthorised signing of a $650 million letter of intent. Mr Roberts said the controversial backbencher "never had any names (to release) from day one".
Mr Wells was fired from the post on Tuesday and Dr Rollins has made no statement on the matter.
The disciplinary committee was formed recently to determine the fate of the former Gaming Board chairman following several scathing rebukes of the Christie administration and Prime Minister Perry Christie that he made in the House of Assembly.
Valentine Grimes, a PLP stalwart who is heading the committee, said notice has been given to Dr Rollins and a hearing is scheduled for Monday.
"When we are ready we will make an announcement and it will be public," Mr Roberts told The Tribune.
"I suppose it will be made by the end of the month when the disciplinary committee is done." 
Mr Roberts added as he chuckled about the matter: "What needs to happen is you guys need to find Rollins and ask him where are those names that he threatened to release.
"There are no names. . .the public shouldn't hold its breath and you don't hold your breath either because from day one he never had any names and everyone should have known that by now."
Dr Rollins had threatened last month that if Mr Wells were fired, he would reveal the names of those involved with Mr Wells' signing of a $650m letter of intent with Stellar Waste Management. In September, Dr Rollins told NB12 that other people needed to be fired if Mr Wells was dismissed. He said he was prepared to say who those people were because there was more than met the eye regarding the letter of intent (LOI) controversy.
Dr Rollins said he was of the view that Mr Wells was being used as a scapegoat.
At the time he said: "Some other people need to be fired too."
He added: "If Renward Wells needs to be fired, he is not the only one, and I have a problem with you trying to scapegoat my friend."
Later, he tried to distance himself from the comments and denied that he had any information of corruption within the government.
However, Dr Rollins' earlier comments were construed by observers to mean that he had information of impropriety within the Christie administration.