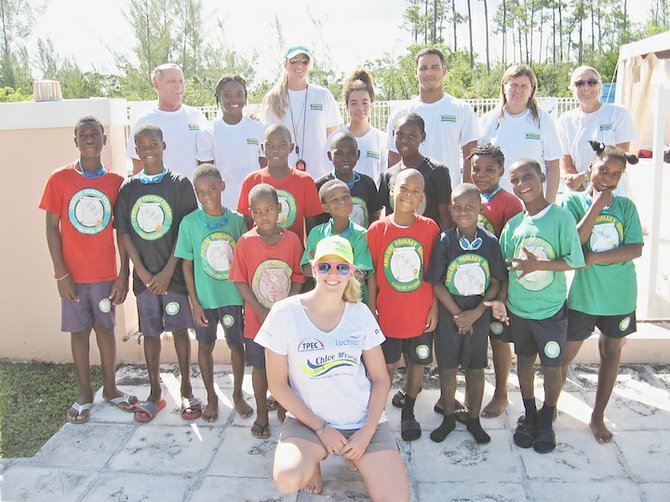 By BRENT STUBBS
Senior Sports Reporter
bstubbs@tribunemedia.net
CHLOE McCardel, an ultra-marathon swimmer from Australia who has already achieved a world record for the longest continual swim in a Swim Spa, is in town to achieve a new world record for the longest continuous swim in the ocean over a 128-kilometre course in a 48-hour period.
During the week of October 26-30, McCardel will attempt to surpass the current record set in 2011 by Penny Palfrey of Australia between Little Cayman Island and Grand Cayman Island in the Caribbean when she swims from Eleuthera to New Providence.
"We looked at a number of locations, but the Bahamas seemed to have the right mix, including the weather, to attempt this swim," said McCardel, who is currently teaming up with Swift Swimming, headed by Andy and Nancy Knowles, to help her prepare for the feat.
"The weather temperature is not too hot and not too cold. We know that there are sharks around, but we don't hope that they will get that close to me and cause me not to complete the course. We've done our research and we realise that this is the ideal place to achieve the world record."
Over the next 10 days, McCardel will be finalising the trek from the southern tip of Eleuthera to finish on Nassau or Paradise Island with her six-member team. She also intends to have about five persons come in from overseas to monitor the race, which will also be covered live by Channel 7 television station from Australia.
McCardel, who attempted to swim from Cuba to the United States last June, but had to abort the effort due to several deadly box jellyfish stings, will be swimming without the use of any apparatus, which makes it even more intriguing, but she's confident that she can accomplish the goal.
"I've been maintaining my fitness, swimming at least twice a day," she said. "I've worked on my nutrition over the years and so I have that down packed. Really, the most challenging thing for me right now is the logistics in bringing everybody here and getting them set up."
Although she has admitted that she received very little support from the Bahamas Government, she's pleased to have hooked up with Andy and Nancy Knowles, who have been providing her with all of the assistance that she needs in getting ready for the big swim.
Knowles, who worked with his son, Olympian Jeremy Knowles when he attempted a swim from Exuma to Nassau in 1997, said he's delighted to be able to assist McCardel and he's hoping that when she attempts it, she will be successful.
"It's really taxing on your body, so when she's finished, she's going to be very tired," Andy Knowles said. "When Jeremy did his swim from Exuma, we had to make sure that the weather was right and there wasn't any currents. So I think it's important that she's not swimming against the current."
As this will be the first such venture attempted in the Bahamas, Knowles said he and his Swift Swimming Club will be there to provide whatever assistance they can because it would bring a lot of international acclaim to the Bahamas if McCardel accomplishes the feat.
"She probably practiced for this a lot longer than Jeremy practiced for his own," Knowles said. "Jeremy was just basically a pool swimmer. But we did that Exuma swim before as a relay to raise money for the Barracuda Swim Club. But Jeremy wanted to try to do the whole thing by himself."
And Nancy Knowles said while McCardel is caught up with the vigorous preparation for the swim, they thought it would be good for her to enjoy some time assisting their Swift Swimming Club in their "Learn to Swim" programme with the students of the primary schools in Adelaide and Gambier.
"I think she can do it, but I'm looking at the weather and saying 'why ain't you doing it right now,'" said Nancy Knowles. "Just like when Jeremy did it, it was a perfect day, so I'm hoping that it is successful in that area. Physically, she's looking good so I think she will be able to do it."
The only thing left is for McCardel to select the best day that she will secure to attempt the world record. Hopefully when she does, it will be in perfect weather conditions.
NOTE: McCardel has also won the prestigious 46km Manhattan Island Marathon in 2010) and has swum six solo crossings of the English Channel (34km per crossing), including 2x single crossings and 2x double crossings. She also coaches English Channel solo and relay swimmers. Two of the teams swum the English Channel in a relay earlier this year to raise $100, 000 for the US Cancer Charity Swim Across America.
Anyone interested in contacting McCardel can do so by emailling her at chloe@chloemccardel.com or visit her website at chloemccardel.com.