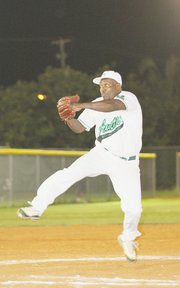 By BRENT STUBBS
Senior Sports Reporter
bstubbs@tribunemedia.net
RUDY Fox may not have come through as a clutch hitter so far for the Arnette's Sporting Lounge Hitmen, but the Sting Truckers will remember why the versatile cricket player was slotted into their clean-up spot in the line-up.
With the Sting Truckers holding a 9-7 lead going into the bottom of the ninth inning, Fox ripped a bases loaded RBI single to plate Keiron Munroe to cap a three-run rally that enabled Arnette's Sporting Lounge to seal a 10-9 walk-off victory.
In the process on Saturday at the Banker's Field in the Baillou Hills Sporting Complex, the Hitmen extended their lead in the New Providence Softball Association's Carl 'Bang Bang' Johnson men's best-of-seven championship series to 2-0.
"I had one thing on my mind, our goal and our mission, which was to execute and get it over with," said Fox, who was wearing pink accessories in honour of his mother-in-law Allison Wallace, who is a breast cancer survivor.
"It's only as expected. It might not be pretty, but we are where we want to be."
The Truckers, who were demolished 13-1 in game one on Thursday, gave the jam-packed stadium a lot to cheer about as they played like the pennant winners, who returned to the league to regain their perennial championship title.
In the thriller in the seventh, Teran Wood ripped a two-run triple, but was injured sliding to third. He was replaced by pinch runner Peran Rolle, who attempted to score on a wild pitch after Jamal 'Sarge' Johnson got on first on an error.
Eugene Pratt came through with a RBI double to plate Johnson and as Orlando McPhee got on base on a fielder's choice, Pratt scampered home on an error. Ramon Johnson followed as he reached safely on an error and he and Pratt eventually scored on wild pitches from Alcott Forbes.
Forbes, however, got Ramon Storr to ground out and then he struck out regular season batting champion Lamar Watkins to end their rally as the Truckers surged ahead 9-7.
"Right now, we're just not hitting the ball like we know the Truckers are capable of hitting," Watkins said. "Once we can hit the ball and iron out those simple mistakes that we are making, we will be okay."
Watkins, the lead off batter and centre fielder, is off to a slow start in the championship, going hitless for the second straight game with a 0-for-5 plate appearance.
"Having won my first batting crown, I think I've been putting too much pressure on myself," he said. "I think I just have to go in there relaxed on Tuesday and hopefully I can have a better game to help this team."
The Hitmen helped themselves to the victory as Rashad Seymour led off the late come-back with a double and scored their eighth run on an error that put pinch hitter Devaughn Wong on first.
Keiron Munroe got on a fielder's choice as the Truckers tried unsuccessfully to pick off Wong at second. Angelo Dillet then came through with a RBI single to send Wong home with the tying run.
That brought up Fox, who politely drilled a shot to left field from losing pitcher Eugene Pratt as Munroe crossed the plate with the winning run and the celebrations continued for the Hitmen, managed by Darren Stevens.
There were some fireworks early in the game from the Arnette's Sporting Lounge dug out as starting pitcher Leonard LaFrance objected to be replaced on the mound by Alcott Forbes after he gave up a two-run home run to Orlando McPhee in the second for a 4-2 deficit.
LaFrance took off his uniform top and hat, threw it on the ground, packed up his bag and left. Stevens wasn't concerned. He still had Alcott Forbes, the best pitcher in the league, who only gave up one unearned run to Marvin Wood in the fifth before he struggled in the seventh.
The Hitmen had opened the game with a four-run first inning, highlighted by Rudy Fox's RBI fielder's choice, Hosea Hilton's RBI single and Martin Burrows Jr's run-producing double.
They got two unearned runs in the fifth from Burrows Jr and Seymour and another run in the sixth as Adrian Pinder's RBI sacrifice fly drove in Fox, who had an active night with a single, the first of two.
Arnette's Sporting Lounge then bounced back in the seventh with their final three runs, including Fox's game winning blow to extend their series lead to 2-0 as the Truckers returned with Pratt on the mound.
Pratt had started the game, but after giving up five runs through the fifth, he was replaced by game one loser Thomas Davis. After striking out the side to get out of the jam, Davis pitched the sixth, giving up one run and an offensive change in the seventh, caused him to have to be replaced by Pratt in the bottom of the frame to set up the fireworks for the Hitmen.
Game three is set for 8:30pm Tuesday.