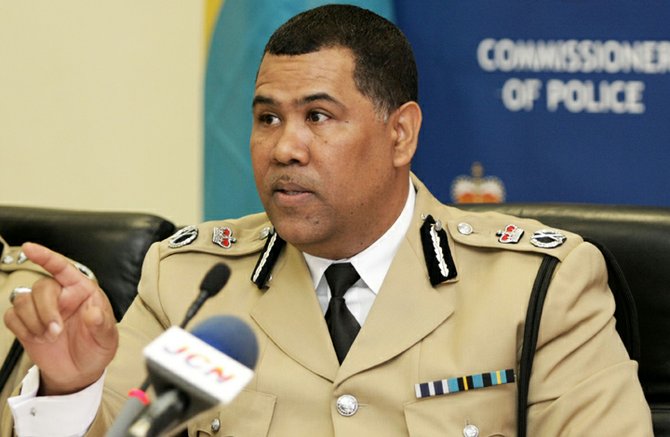 By RASHAD ROLLE
Tribune Staff Reporter
rrolle@tribunemedia.net
RAPE statistics are trending downward compared to last year, Police Commissioner Ellison Greenslade said yesterday amid increased focus on reported instances of the heinous crime.
However, he did not provide updated figures on reported rapes.
His comments appeared to contradict those made by Superintendent Paul Rolle, who told The Tribune on October 7 that police are concerned about a "little spike" in reported sexual assaults.
Mr Rolle raised the alarm after four women were raped over a three-week period, two while walking and two while driving their vehicles.
A week after Mr Rolle's warning, a woman was sexually assaulted when a man forced his way into her home. She was at her residence on Gibbs Corner when the man gained entry around 1am and sexually assaulted her before fleeing on foot.
The next day, another woman was raped by a man she knows who entered her home at Hay Street, police said.
State Minister of National Security Keith Bell also said this week that investigations into recent rapes reveal the strong possibility that repeat sexual offenders are to blame.
However, Mr Greenslade told reporters during a press conference at the Cable Beach Police Station yesterday that while one rape is too many, statistics for the crime are trending downward.
"I am a little disturbed that we are sounding such an alarm," he said. "Quite frankly I was surprised by that because that was not brought to my attention in that way. I do not want to, as we say locally, throw anyone under the bus, except to say that rape figures are all down. They have been trending down for a very long time. They are still down over last year and based on what I see, by the end of the year those figures are going to be down over the figure from last year."
According to statistics released by police in January, reported rapes in 2013 rose eight per cent over 2012 from 96 to 104. Those figures also show that attempted rape rose 82 per cent in 2013 compared to 2012 from 11 to 20 while unlawful sexual intercourse incidents rose two per cent from 151 to 154.
In January, Mr Greenslade expressed concern that reported sexual offences increased last year and at the time said police would give more attention to this area.
Yesterday he explained that a lot of rape cases appear to be between acquaintances.
"One rape, however, is one rape too many," he said. "We are seeing a lot of familiar rapes, meaning people who do not understand that 'no' means 'no' and so victims will tell us that the person was friendly, came to their home and subsequently they were sexually assaulted.
"That is wrong. It is a criminal offence and we are certainly, where we find those people, we will arrest and charge them. We've had some successes in some matters, but I do not know today that we have any issue which should cause wide public alarm and I am saying that in the most respectful way."
He added: "I appreciate all of the comments from the officers who have spoken before me and all of the key stakeholders in the community who do extremely good work, so I don't want to discourage that now, anything that we say in terms of advocacy for victims and anything that we do to help people that are victims and repeat victims for me is a benefit and I want to thank stakeholders that are on board."