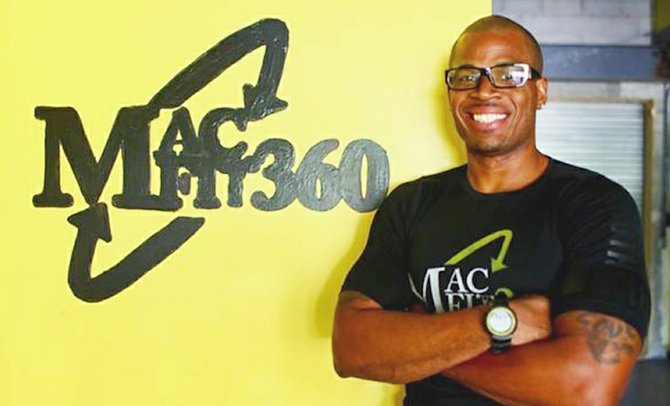 By BRENT STUBBS
Senior Sports Reporter
bstubbs@tribunemedia.net
FROM the basketball court to the training room, Jimmy Mackey has found a new niche in life and he is hoping that his role as a certified National Academy of Sports Medicine (NASM) master trainer will be able to help more Bahamians to excel in all areas of their physical fitness.
Earlier this year, Mackey successfully passed his NASM course and became one of the 14 persons added to the list as a master trainer. He is the only Bahamian and the first in the Caribbean to secure the title, which would enable him to train athletes anywhere in the world.
However, Mackey said he would prefer to be at home and so on January 4, he officially opened his Mac Fit 360 store in the Independence Business Plaza, next door to Dunkin Donuts on East Street South.
Already, he has worked with a number of top-notch athletes, including Jaraun 'Keno' Burrows, a Bahamian professional basketball player while he was home on a break, quarter-miler Ramon Miller, just before he suffered an injury during the preliminaries of the men's 4 x 400 metre relay during the inaugural IAAF World Relays at the new Thomas A Robinson National Stadium in May and the women's national basketball team, prior to their travel to the Caribbean Basketball Championships in Tortola, British Virgin Islands, in July.
"I've been a personal trainer from 2012. I did it without my certification and I found out that it's not the way to go," Mackey said. "As a certified trainer, you are held to a standard in the United States. They set the bar really high. So when I came home and I started working out at Club One at Sandyport, I was told that I needed to get certified before I could train.
"So even though I knew some things, I decided to do it and once I became certified, I found out some things that I thought I knew. So your whole mind changes when you actually start studying. You go through a 5-6 month course and they tell you exactly what it is you have to go through to become certified, in addition to taking the test."
Having abreast himself of every aspect of personal training, including mixed martial arts conditioning, Mackey said he can now train high calibre athletes from high school to professionals and from the recreational arena to the Olympic Games or the elite level in a particular sport.
"When I took the course, it was all about me being the best in the field that I am in right now," Mackey said. "So when the NASM was launched, I applied for it. I paid about $1,500 for an on-line course and after I passed that, I was able to go to the practical in June.
"At the time, they say 70 per cent of the persons who take the course fail. So that's a big number. That means only 30 per cent who take the course pass. So when I went to the United States to take the course, we had three instructors evaluate you. These guys have masters and doctorate degrees, so they watch every single thing you do and how you train your client and how well you know your client and the do's or dont's."
The instructors, according to Mackey, were more concerned about the little things that a personal trainer took for granted.
"So it made you really go in depth in terms of your method of training because you need to have certain standards in order to be a master trainer," Mackey said. "And now that I have my masters trainer license, I can now do workshops, I'm able to do lectures, all of that stuff to actually help other professionals in this field."
As one of the 25 NASM master trainers in the world, Mackey said he's able and ready to make a difference in as many Bahamians who want to change their lifestyles.
While living in California and coaching varsity basketball and training athletes at a fitness centre, Mackey said he realised that he could bring the programme to the Bahamas. When he returned home, he got started with about six people in a boot camp on Malcolm Park.
"When I saw the growth, I realised that it was time for me to open up a facility that can accommodate the general public and athletes of every calibre at every level," said Mackey of his humble beginnings in 2013. "I entered this building in November, but I didn't open up until January 4 and I've been here ever since."
Inside the two-room ground floor and additional room upstairs, Mackey is able to conduct personal training, nutritional consultation, metabolic testing, combat training and strength development.
Mackey and his brother, Valentino, played basketball at CI Gibson High and Tabernacle Baptist in Grand Bahama before he went on to Lanston University. He also played on the men's national team.
When asked if he misses suiting up to play, Jimmy Mackey said emphatically no because "at some point in your life, you have to prepare for the next stage and while I had fun playing basketball, I really enjoy what I'm doing and that is helping others to excel to the next level, whether it's in their own personal fitness or becoming a much better athlete."
He intends to continue that role at Mac Fit 360.