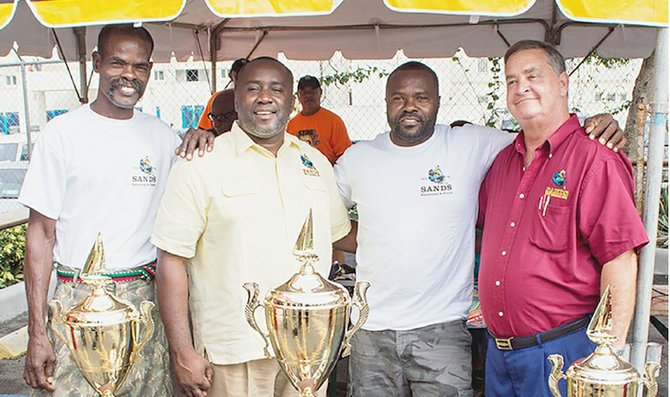 By BRENT STUBBS
Senior Sports Reporter
bstubbs@tribunemedia.net
In every sport, dynasties are developed with teams and athletes dominating the competition over a period of time. Since the inception of the Sands 'Man in the Boat' Championships three years ago, Clayton Bain has emerged as the "king of the sculling competition."
Over the weekend of November 1-2, Bain will attempt to win the national championship title for the third consecutive year when the two-day event and the E Class sailing competition takes place in Montagu Bay.
Lynden Johnson, marketing director of the Bahamian Brewery Company Limited, the producers of Sands beer and the organisers of the competition, said they are looking forward to an exciting showdown.
The first day of competition will begin on Saturday, November 1 with the High Rock Scramble sculling relays at noon. Then at 5pm, the preliminaries of the Sands 'Man in the Boat' competition will be held with the top two boats advancing to the championship on Sunday, November 2 that will be preceded by the E Class regatta at noon.
A total of 12 boats are expected to participate in the E Class championship.
Bain, a native of Andros, said he's not concerned about who comes out to challenge him. His goal is to create his own legacy in the sport by winning the sculling title for three consecutive years.
"I don't brag. I don't have time for that," a calm, cool and collective Bain stated. "The boss (Lynden Johnson) says he has someone to beat me, but I want to see him. Whoever it is, let him come out. I'm not ashamed. I ain't scared. See the man there (Steven Rolle), I gave him a chance in Abaco. I told him to stay on my tail. He tried to push me off the buoy. That can't happen.
"I told him to stay on the stern of the boat and he will be in first or second place. I might fumble or fall down and he could be ahead. But he didn't take my advice, so next time, I won't be telling him what to do."
In response, Rolle, who won both the National Family Island Regatta in Georgetown, Exuma and the Long Island Regatta, said he has something in store for Bain when they clash again.
"I have some things in store for you. Sunday evening, I will put them all together and cook a big bowl of soup for you," Rolle said. "Do you think you will be able to eat it?"
Bain replied: "I will eat it all down."
Added Rolle: "That's all I have to say. I will be there."
So will Dennis Fox out of Long Island, who won the St Valentine's Day Massacre, Danny Knowles, who will represent Long Island and Clayton Moxey, also from Andros, who won in Grand Bahama. All the competitors will get a chance to try and dethrone Bain.
George Kelly, the sculling race coordinator, said the activities will begin with the three-man relay race. It will feature 10-12 boats, including Sands, Sands Light, High Rock and Strong Back, the four boats built by Sheldon Gibson on the request by Bahamian Brewery's president Jimmy Sands in his quest to revive the sport of sculling.
During the relay, each boat will cover two laps before they exchange skippers until all three skippers have completed the course. "This is being done so that we can get as many people as possible involved in sculling," Kelly said. "We're hoping to have a great event. After that, we will do the Sands Man in the Boat sculling race with the first two advancing to the national championships the next day.
"We also intend to have some surprises out there. We are trying to put on our ladies' races on Saturday and so we are encouraging all of the ladies to come out and participate in that. Then on Sunday, we will have the E Class competition with three races back-to-back, starting at noon. We intend to have cash prizes and trophies up for grabs."