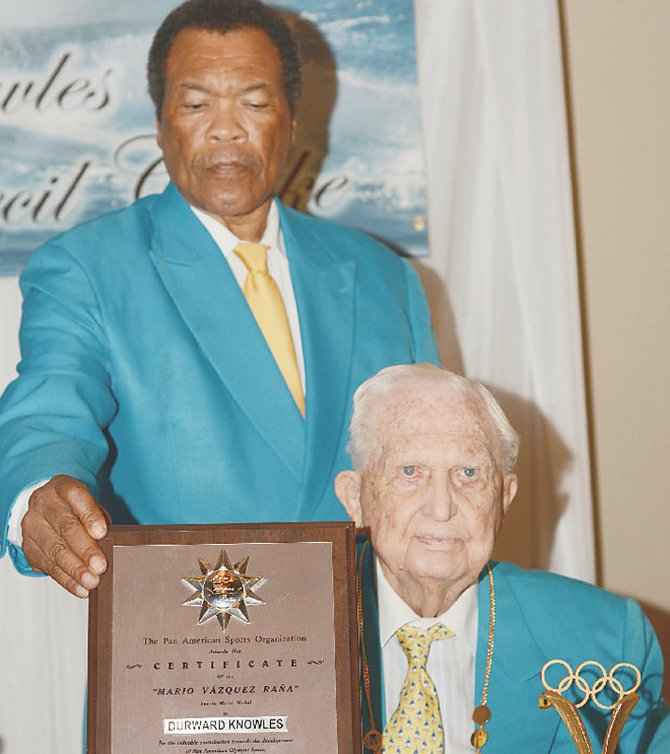 By BRENT STUBBS
Senior Sports Reporter
bstubbs@tribunemedia.net
IT was 50 years ago that Sir Durward 'Sea Wolf' Knowles and Cecil Cooke brought international glory to the Bahamas with their gold medal performance at the 1964 Olympic Games in Tokyo, Japan. Yesterday, the memory was relived in the recognition by the Bahamas Government and the Bahamas Olympic Committee in a "Golden Anniversary" luncheon.
In a packed Imperial Ballroom at the Atlantis resort on Paradise Island, tributes were paid to Sir Durward and Cooke by patron Governor General, Dame Marguerite Pindling, Prime Minister Perry Christie, Minister of Youth, Sports and Culture Dr Daniel Johnson, Dr Bernard Nottage, Minister of National Security, Richard Peterkin of the International Olympic Committee, Dr Hubert Minnis, Leader of the Free National Movement and a host of local dignitaries, including Lori Lowe, Danny Strachan, Betty Cole, Mike Sands, Percy Knowles, Obie Pindling and J Barrie Farrington.
Also in attendance were Steve Stoute, the chairman of the Caribbean Association of National Olympic Committees (CANOC) from Barbados, Wayne Russell, treasurer of the Canadian Olympic Committee and Sir Arlington Butler, the longest serving member of the BOC, who next month will celebrate his 50th anniversary in the Olympic movement.
The highlight of the day was when Sir Durward and Cooke were presented with three distinguished awards. Sandra Cooke, who along with her brother Charles, represented their deceased father Cooke, who was killed in a car accident with his wife Merlee on May 1, 1983, on Bernard Road.
They were the President's Award, presented by Christie, the IOC's President's Cup, presented by Peterkin and the Pan American Sports Organisation Medal and the Sports Merit Award, presented by Dame Marguerite. Peterkin, who hails from St Lucia, also delivered a message from Thomas Bach, the new IOC president who was unable to make it to the Bahamas.
Johnson, in his address, called for the Nassau Airport Development Company (NAD) to put the portrait of the two "Golden Boys" alongside each other on the Wall of Fame at the Lynden Pindling International Airport where the other sporting legends are displayed.
But it was Christie, who had just returned from Grand Bahama where he spoke at the groundbreaking of the Statoil administration building, alluded to the fact that both Sir Durward and the Cooke family can petition the government for a parcel of land in the Westridge area, one of the incentives awarded to Olympic gold medallists.
"Today was excellent, all of the tables were filled, but I'm sorry in certain instances that it took too long and some people had to leave to go back to work," Sir Durward said.
"But I'm very pleased with the support that we got and I was able to explain how Cecil and I got together. The pressure was on me. If I didn't finish above the bronze medal, people around the yacht club would have said 'I knew he couldn't do it without Sloane Farrington, so I was glad that it worked out in our favour where we won the gold. So I'm happy with what the government and the Olympic Association did in bringing this together. We couldn't have it at a better time."
Sir Durward, who turns 97 on November 2, said his only regret was the fact that Cooke was not present to share the moment with him, but he was appreciative of the fact that he was able to step in and compete with him after Farrington was unable to travel. He and Farrington had teamed up to win the bronze at the 1956 Olympics in Melbourne, Australia.
Having devoted his entire life to helping as many people whom he come in contact with as a philanthropist, Sir Durward said he was just glad to see Bahamians of all walks of life come together and his only wish is that Bahamians will learn to live together as one.
For Sandra Cooke, the event signified the recognition of the Bahamas' first two sporting heroes.
"It was a long time coming and it turned out to be a super fantastic gala luncheon," said Cooke, who had to hold back her tears as she talked about her father. "I think it was a fantastic turnout and I am so proud of the Bahamian people for stepping up to the plate to be witnesses of this recognition that took place. Hopefully there will be more in the future, but I thought it was fantastic."
BOC president Wellington Miller said the celebrations came at the right time.
"The Bahamas Olympic Committee was happy in putting this together to make sure that we honour our national heroes in sports so that the world can see and the Bahamian people can see how much we appreciate the accomplishment that they achieved," Miller said.
"It may have been 50 years, but that is more significant anyhow. It could have been 10, 20, 30 or 40, but 50 is great. 50 is gold, so this is the right time. I'm just so happy that we were able to honour them at a time like this, when they celebrate 50 years since accomplishing the milestone."
Veteran journalist Tyrone Olander, who was a key organiser of the event, said the hard work for the past five months finally paid off.
"I'm relieved. This is five months in the working since I first went to Sir Durward and told him about the event and what we were going to do for the anniversary," he said. "He told me to get the government and the Bahamas Olympic Committee involved and he will be willing to do whatever needs to be done to make it happen.
"Today, October 23, 2014, we celebrate 50 years since Sir Durward and Cecil Cooke won the Bahamas' first gold medal in the Olympics in 1964 in Tokyo, Japan. So we are grateful that so many people came together to put this on successfully. It's been one hell of a ride."
Stay tuned, Olander said there are some more things on the horizon to keep the legacy of Knowles and Cooke alive.