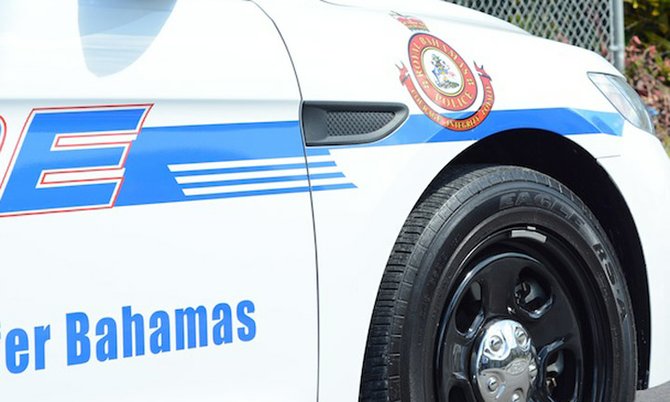 By KHRISNA VIRGIL
Tribune Staff Reporter
kvirgil@tribunemedia.net
INVESTIGATORS are seeking the public's help to solve five separate armed robberies that took place on Thursday.
In the first incident, police said a 23-year-old woman, a resident of Andros Crescent, was sitting in her Honda Accord Coupe at the home of a male friend on Carmichael Road when three men, all armed with handguns, ordered them out of the vehicle.
The men took the car and left with cash and cell phones.
The second incident saw a 36-year-old old man of Fowler Street, who was inside a Junkanoo shack at the time, robbed of cash by an armed man. 
Police said this incident happened at around 9.45pm.
The victim told police that the robber took his cash and a cell phone before fleeing on foot.
In relation to this matter, police at around 6am yesterday arrested a 25-year-old woman, a resident of Wilson Track, for abetment to armed robbery, and a 17-year-old boy of Windsor Lane for questioning.
In another incident on Thursday, two men entered a small shop at McCullough Corner armed with a handgun demanding cash from the store owner.
After the owner handed the robbers a small amount of cash, the robbers fled on foot. The incident happened at around 8am on Thursday.
Later, police said another robbery occurred at a small shop at Burial Ground Corner.
According to reports, sometime around 7.15pm, a man with a handgun entered the shop demanding cash.
Before leaving with a small amount of money, the gunman discharged his weapon into the store. Police said no one was harmed.
In the fifth incident, police received reports that a convenience store at Adderley's Street in Fox Hill had been robbed. It happened at 8.15pm on Thursday.
Police said a female customer went into the store, purchased one item and left. Shortly afterwards the same woman returned to the store along with two men, both armed with handguns. The men held up the store's owner and demanded cash. They fled the scene with cash and cell phones.