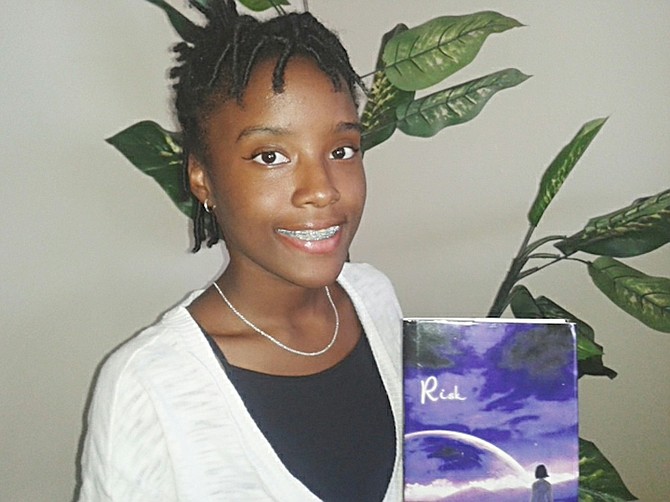 By JEFFARAH GIBSON
Tribune Features Writer
jgibson@tribunemedia.net
WHILE some students may be giving themselves a pat on the back for a good mid-term report last week, Alexis Ferguson is celebrating the release of her first fantasy fiction novel.
The 11th grade Nassau Christian Academy student hosted a book tour and signing at Buy The Book last week for the launch of "Risk".
The completion of the book, which took Alexis nearly two years to write, represents a major achievement for the 16-year-old, who hopes to pursue creative writing at the professional level later in life.
"For as long as I could remember, I always loved reading and writing, but it was at the age of 13 when I realised that I wanted to seriously pursue it," Alexis told Tribune Woman.
"Writing 'Risk' was actually a decision made on a whim. I had just finished reading the most beautiful book, suggested to me by a friend, and I had this feeling of purpose come over me. I just had to start writing. I never really knew exactly where I wanted to go in life, but writing 'Risk' gave me direction."
"Risk" is a fantasy fiction novel set in Hawaii and the Mahgic Realm. The story follows Jade, a mind-reading teenage girl, and the Mahgi, supernatural beings with extraordinary powers. Jade, a 17-year-old Mahgi-human hybrid, is living a fairly normal life filled with love, friends and family.
But things begin to unravel when Jade's mother finally tells her she has been living a lie. The father that she knew to be dead for almost eight years, is not only alive, but in prison in Mahgiria for committing an unforgivable crime on Earth. Not only is he alive, but was placed on death row, and now is about to truly die.
Upon hearing the news, Jade, despite her mother's refusal to let her go and the risk of not only losing her life but her brother's as well, decides to leave her family, friends, not to mention the love of her life, behind to rescue her father.
Jade then enters the land where her father was born, a land flowing with the mahgic that runs through her veins.
She grows quite comfortable with the lifestyle of her people, but when time starts to run out, there's nothing left to do but run headfirst into her mission. She quickly and harshly learns that rushing is never the way to fix things, and the only thing that she can do now is to break the promises she made back home. Left to suffer the consequences of her actions, Jade soon realises that the situation she has put herself in is much bigger than just saving a father she loves. The question now becomes, can she save Earth from the leader of Mahgiria?
"It took me about two years to write 'Risk', but of course I was doing this while in school, so the writing process was really inconsistent," Alexis said.
"What I love most about writing itself is the vast amount of creativity it allows. You get to create something beautiful, and with 'Risk' I have created characters that are near and dear to my heart. I love being able to bring them to life, give them a chance to share their stories."
Knowing that the story she dreamed up and wrote down is now in book form on the shelves of stores is surreal, but something Alexis feels very proud of.
"I feel quite accomplished, but also a bit detached. The story is my baby, but it's odd seeing it on shelves. Either way, I know that I made the right decision by launching at a young age. I would have definitely regretted it if I didn't. I am forever grateful to God that I am able to pursue my dreams and hope in the future he would allow me to help others do the same," she said.
Alexis has already begun to write a sequel to 'Risk'.
As for her plans when she finishes school, Alexis said she hopes to study creative writing and psychology.
"My number one goal is to become a professional novelist and bring more attention to literature in the Bahamas. I also want to be able to help people, whether in psychology or people with hidden talents that need exposure," she said.