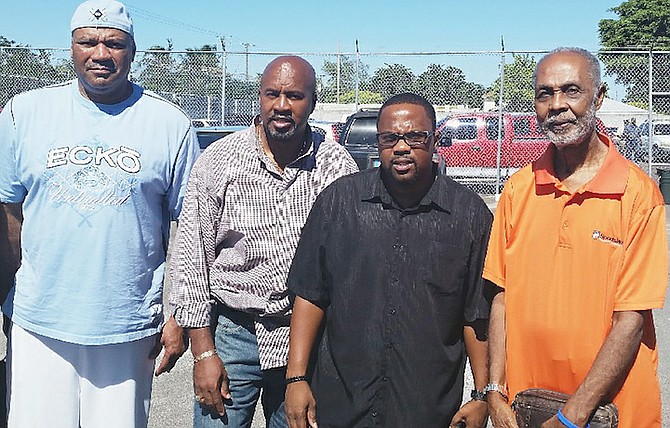 By BRENT STUBBS
Senior Sports Reporter
bstubbs@tribunemedia.net
FORMER National Football League player Michael Cobb, representing the American- based Sports World, made his first stop on the 'Go Positive Bahamas' Tour yesterday as he left a sterling message to a group of inmates in the medium security segment of Her Majesty's Prison, Fox Hill.
Cobb, who spoke Sunday during the 11am worship service at Temple Baptist Church, is in town to encourage positive choices in the country's young people. He will begin a series of stops at various high schools from today through Thursday before he returns to Chicago.
This is the second year that Sports World is in the Bahamas.
Sports World Ministry, led by Dr Ira Lee Eshlemas, who founded the organisation 30 years ago and is now headed by Devon McDonald, is a seed-planting ministry, which uses former professionl athletes to share personal life experiences with students while challenging them with hope.
Last year, McDonald was in town with three other members as they visited a number of schools in New Providence and Grand Bahama. They also hosted a softball camp for women in the Banker's Field at the Baillou Hills Sporting Complex and two football camps in New Providence and Grand Bahama.
While Cobb is the lone representative making the trip this year, the graduate of Michigan State University who was drafted in the NFL in the first round in 1977 by the Cincinnati Bengals, but went on to play for the Chicago Bulls from 1977-81, won't be putting on any clinic. He was delighted to have shared the time with the inmates yesterday.
"The inmates responded very well. We had a good discussion," said Cobb, who got a chance to interact with the inmates after he shared his own personal experience in how he made a change in his life to give up all that came with being a successful pro athlete to follow God. "I've spoken to many prisons in the United States and I enjoy it because everybody needs encouragement."
Having spoken in a number of countries as far as South Africa, Cobb said he's just delighted to be able "to give back to people who need encouragement."
The Rev Geoffery Wood, pastor of Temple Baptist Church, who heads the local organising committee, said they have a number of schools that Cobb will speak to, including St John's College on Wednesday. He noted that last year, the group had an overwhelming response from the student body and they are anticipating the same thing this year.
"They are looking forward to us coming and we're looking forward to going there," he said. "We're just looking forward to a positive week and when Michael Cobb leaves, he will leave some positive messages for a better Bahamas."
Today, the school blitz will begin at Anatol Rodgers at 9am and continue at 11am at RM Bailey. The first day will wrap up at CI Gibson at 2pm. On Wednesday, day two will begin at 9am at Government High, 11 am at TA Thompson and 2pm at St John's. Then on Thursday at 9am, the tour picks up at Doris Johnson and ends at 11am at HO Nash.
Also on Wednesday night, Apostle Carlos Reid will host a special session at The Hope Center, starting at 7pm.
"The whole message is to 'Go Positive,'" Reid said. "When you look at our schools, there's teenage pregnancy and gang violence, so this is an opportunity to speak positively in the lives of these young people. So we want to encourage parents to bring their families to the Go Positive Rally at the Hope Center near the Thomas A Robinson Stadium."
Cobb, who arrived in town on Saturday, is scheduled to leave on Thursday.