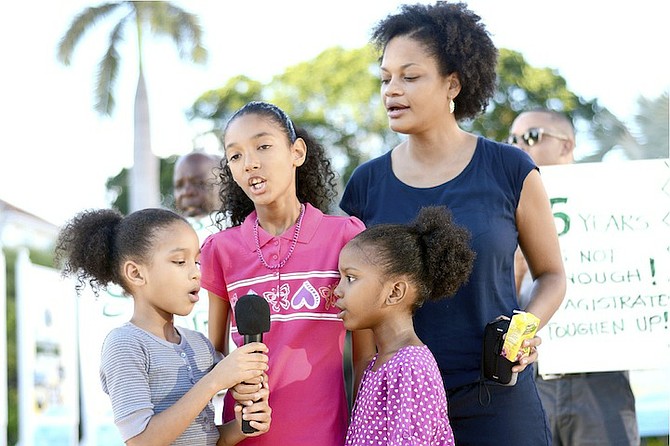 By RICARDO WELLS
CIVIC groups Bahamas Against Sexual Violence & Child Abuse and Rise Bahamas took to Rawson Square yesterday demanding stiffer laws to protect the nation's "children and vulnerable citizens" a week after a man was sentenced to five years in prison for the rape of six-year-old girl.
Chants of "enough is enough", "five years is not enough" and "stop the abuse, stop rape, speak up, it's not too late" echoed through the downtown area as the two groups occupied Rawson Square in protest of what the crowd termed "soft laws" for those convicted of violent crimes.
Terneille Burrows, event organiser, claimed that the judicial response to these types of crimes is "a crying shame".
Ms Burrows stated: "Statistics show that one in every three women around the world have been abused at some point in their lives.
"Violence against anyone is not funny. The issue of violence against our children and women should certainly not be tolerated. We need our leaders to step up and make serious changes to the laws to better protect those at risk," Ms Burrows added.
She also called on government officials to remain true to their pledge to create a sex offenders registry. However, she stated that a registry would not be a panacea to sex crimes.
She added: "We need more than just a sex offenders registry, we need the government to take it a step further and add an element of psychiatric assessment.
"Persons found guilty of such crimes need a lot more than just fines and jail time, they need serious examination to get to the root of their thinking."

On October 20, Kendrick Rolle, 37, was sentenced to five years in prison for having sex with a six-year-old girl in June, 2013. Before that, he was fined in 2001 after being found guilty of indecently assaulting a 13 year old.
On Monday, The Tribune reported that Bishop Simeon Hall has called for convicted child rapists to face life sentences for their crimes.
"It is an added slap in the face of the victim and the general public that it seems that the convicted man will spend less than two years in prison," Bishop Hall said, referring to Rolle's sentence. "The child on the other hand, will spend a lifetime in a 'private hell' for which limited help can be offered."
BASV&CA and Rise Bahamas members assert that the issue is one that they will not turn a blind eye to and said that this is a fight they intend to carry on until "true justice" is realised.