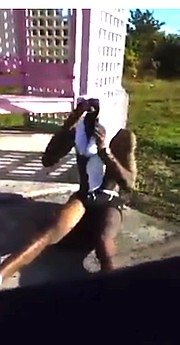 By DENISE MAYCOCK
Tribune Freeport Reporter
dmaycock@tribunemedia.net
A SOUTH Bahamia man is recovering in hospital after he was attacked by bees yesterday morning in the area of West Sunrise Highway. Passing motorists watched in horror as the man lay helpless on the ground covered by the swarm.
Police and a local pest control company were called to the area to assist and officers warned motorists to close their windows. According to police reports, the victim is a 31-year-old male resident of South Bahamia.
Celia Mackey, an account executive at 100JAMZ, was taking her daughter to school around 8:45am when they saw the horrific attack.
"He was lying down on the side of the road with no clothes on – he was covered in bees," she told The Tribune. "My daughter asked me if the man was dead and I told her no."
Inspector Terecita Pinder reported that around 9am police were called to an area on West Sunrise Highway and "assistance was rendered by personnel from other government agencies and from Budget Pest Control Company".
It is not known whether the bees were Africanised honeybees or what might have prompted the attack. Such attacks can be fatal, especially if someone has an allergic reaction. Insp Pinder said the victim was taken to the Rand Memorial Hospital for further medical treatment.
She said the police are advising the public to be careful crossing the area of West Sunrise Highway and Santa Maria Drive as efforts are being made to safeguard the area.