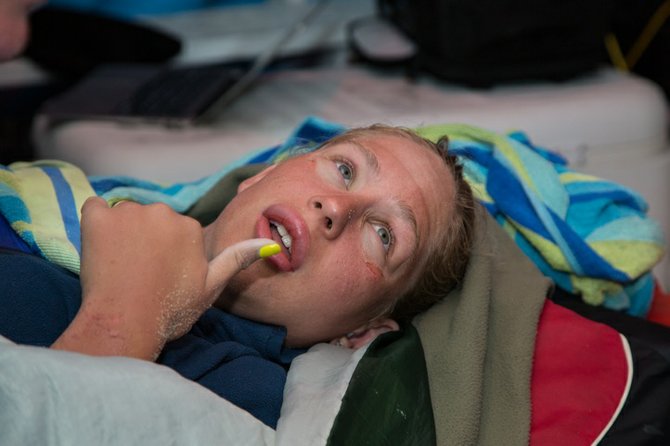 By NICO SCAVELLA
Tribune Staff Reporter
nscavella@tribunemedia.net
AUSTRALIAN ultra-marathon swimmer Chloe McCardel was yesterday discharged from hospital in Nassau for a second time after reportedly being re-admitted at the weekend due to "weeping" wounds resulting from her world record swim from the southern tip of Eleuthera to New Providence last week.
Ms McCardel, 29, was admitted to the Princess Margaret Hospital last Wednesday morning after suffering severe jellyfish stings and dehydration during her 78-mile swim. According to posts on her Facebook page her wounds suffered during the more than 41-hour swim had become infected and were leaking as a result.
On Saturday The Tribune reported that an official from Ms McCardel's support team had said the swimmer had been released from the hospital and was recuperating in a hotel, where she had been expected to stay "for a few days".
But in a post "on Chloe's behalf" on Friday from Paul McQueeney, the swimmer's husband, it was said that she had been readmitted to hospital (that day) and was expected to remain hospitalised for "3 to 4 nights".
"Chloe got stung close to 15 times on night one of the swim and a large number of those stings got sunburn on day two," the post read. "Despite treatment post swim a number of these stings have become infected and are weeping. Chloe is in a lot of pain, but still on a very positive mental high from the swim and everyone's amazing support."
Then shortly after 11am yesterday, a post from Ms McCardel herself stated that she had again been released from hospital.

"I have just been discharged out of hospital," the post read. "Paul McQueeney has been looking after me amazingly well as you can imagine! I am still managing my burns and not able to walk more than a few metres, but on the upside I am currently pain free. Looking forward to celebrating when I get home." She said she was disappointed to have missed the post-swim party at the Green Parrot, but planned to celebrate when she got home to Melbourne.
An additional post from Mr McQueeney suggested that the swimmer would provide more updates over "the next day or two".
Ms McCardel swam a total of 41 hours and 21 minutes from Lighthouse Beach, Eleuthera, to eastern New Providence last week in an attempt to complete the longest open water solo, unassisted marathon swim in history.
At the end of her journey, the left side of her face and mouth were considerably swollen, and the skin directly under her eyes was noticeably raw, likely due to the friction of her goggles constantly rubbing against her face in the salt water.
Mr McQueeney said his wife had experienced a "bout" with box jellyfish halfway into her swim, which stung her at least 10 to 12 times on both legs, her back, face and mouth. He also said she faced the risk of hypothermia.
Ms McCardel made landfall in New Providence at 12:55am last Wednesday, about two kilometers east of her intended finishing point of Montagu Beach after battling an ebbing tide. She had logged a total of 126km, sufficient to secure her spot in history.
Officials from the Marathon Swimmers Federation have said that a panel will review the documentation from Ms McCardel's swim and decide whether it should be ratified as a record.