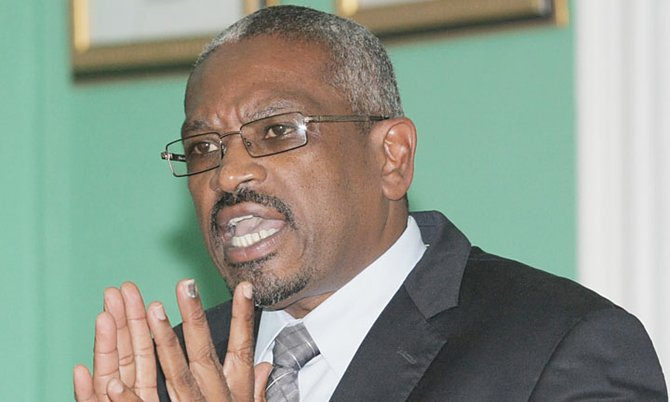 By RASHAD ROLLE
Tribune Staff Reporter
rrolle@tribunemedia.net
FNM Leader Dr Hubert Minnis said crime is "out of control" as he urged the government to disclose what impact, if any, its highly-touted Urban Renewal initiative has had on the problem.
Dr Minnis added that his party will not make any promises about crime that it cannot keep should it win the next election, but will continue to hold the Christie administration accountable over its election campaign promise to reduce violent crime.
Crime was a popular talking point before the last election, with the PLP using it as a key element in its campaign. The party erected several billboards around New Providence, many in areas visited by tourists, that said more than 400 murders had taken place during the last Ingraham administration.
Dr Minnis' statements came yesterday after the country's murder rate for the year climbed to 97, according to The Tribune's count, following recent killings in the Blair and Fox Hill areas.
"If you make a promise, I'm going to hold your feet to that promise," he told The Tribune. "But the FNM will not make promises. As a physician, I bring my training to politics. We as physicians have to speak the truth. We cannot lie to the patient, just like how I will not lie to the nation."
Dr Minnis called on government officials to account to the Bahamian people on the impact its primary crime fighting tool, Urban Renewal 2.0, has had on crime reduction.
"They are not reporting to us on Urban Renewal," he said, adding that the government would be "bragging about" the programme had it accomplished what it set out to do.
"A transparent and accountable government would report on the results and impact of its primary crime fighting tool. This government hasn't done that," he said. 
"I need to see the scientific data about Urban Renewal. When homes are being threatened with home invasion, especially when many are manned by single parent females, people are becoming more frightened. Homes are sacred ground. When we don't feel safe that is a serious concern and where our sons and daughters are being killed in homes via invasion, and mothers and sisters are being raped, that has series implications on our future survival.
"Like the government, crime is out of control," the Killarney MP added. "People are becoming even more fearful, not only within their homes, but outside their homes. The question that must be asked: do you feel safer today than two years ago? The government seems confused on the crime matter as they appear out of their depth.
"Christie, the prime minister, said they will go back to the drawing board. Nottage said they don't need to go back because they're always at the drawing board. Well I say it appears they are sleeping at the drawing board. (Senator Keith) Bell said rape is going up. Commissioner said it's trending down.
"So I ask the question: do they not strategise? Do they review together or are they working apart with their separate views? Who is really in control? We know the criminals trying to take control."
Dr Minnis added that it is obvious the government's crime fighting methods are not working. He said national security officials and law enforcement appear disjointed in their approach.