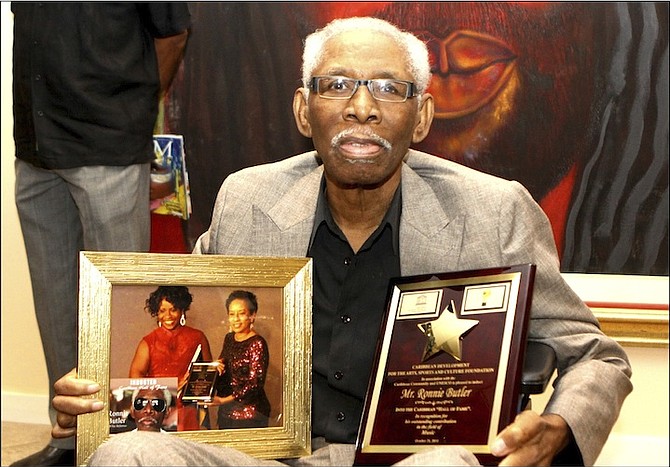 'GODFATHER' of Bahamian Music Ronnie Butler has been inducted into the Caribbean Hall of Fame, and is the fourth Bahamian to earn the distinction – after Sir Lynden Pindling, Sir Sidney Poitier and Eddie Minnis.
He was unable to travel to the special gala event at the Jamaica Pegasus in Kingston on October 25 to receive his award. Minister of Youth, Sports and Culture Dr Daniel Johnson formally presented Mr Butler with his plaque at the Ministry of Youth, Sports and Culture.
Deandra Hamilton of the communications company, Magnetic Media, represented Mr Butler at the ceremonies in Jamaica.
Also nominated in the Caribbean Hall of Fame music category with Mr Butler were: Shaggy, Beenie Man and Taurus Riley.
Mr Butler's distinguished musical career has spanned decades since he was 16 years old. The musical icon is best known for such hit songs as "Burma Road," "Married Man," "Age Ain't Nuttin' But a Number" and many others that have become central to the music and cultural fabric of Bahamian life.