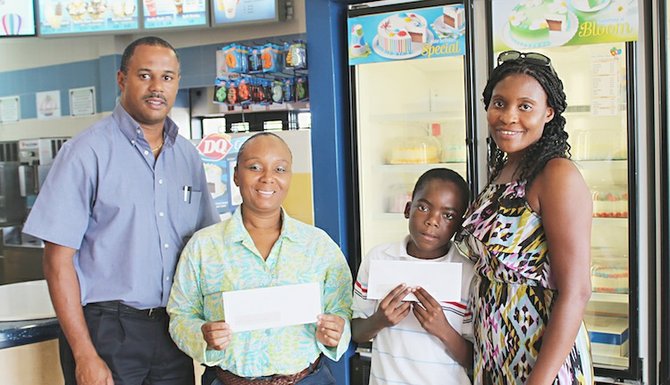 WITH just under 4,000 blizzards sold on Miracle Treat Day on August 14, Dairy Queen Bahamas exceeded their expectations.
The Miracle Treat Day is a global DQ initiative launched in effort to help sick children around the world. This is the first time that Dairy Queen Bahamas has hosted the event, and from all indications the event was a great success, company executives said.

"When it comes to children, it hits a soft spot for Bahamians. We want to take care of our children and our old people if that's the last thing we do, and with DQ they certainly did put their money where the miracles are," said one Dairy Queen manager.
Dairy Queen Bahamas agreed to give $2 from every blizzard treat sold on that day to sick children suffering from cancer, AIDS, sickle cell anaemia and other illnesses.

Here in the Bahamas, Zion Knowles, who was diagnosed with leukaemia at the age of four in June 2012, benefitted from the initiative. Other beneficiaries included nine-year old Elverinique Johnson, the daughter of Dairy Queen employee Samantha Ashe, who was diagnosed with type 1 diabetes in 2012; 16-year-old Miguel Larkin; five-year-old Marcus Clervil and 11-year-old Amon Barr.
In the United States this year, over $1 million was raised during Miracle Treat Day for the Children's Miracle Network Hospitals in an effort to also help sick children.
DQ Miracle Treat Day is an annual event globally and DQ Bahamas said it is happy to join in. The franchise is looking forward to an even bigger and more successful event in 2015.