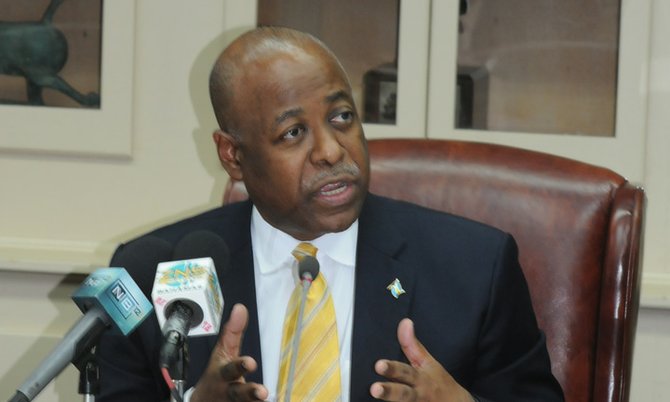 By AVA TURNQUEST
Tribune Staff Reporter
aturnquest@tribunemedia.net
TOURISM Minister Obie Wilchcombe yesterday hinted that the new Gaming Bill will demonstrate the first of "gradual steps" towards tackling discriminatory clauses that prevent Bahamians from gaming in casinos.
Mr Wilchcombe also confirmed that visitors will not be prohibited from gaming in web shops despite concerns raised by casino owners.
"I think we've made steps towards getting to the point where we won't have to be talking about discrimination again," he said outside the Churchill Building.
When asked for further clarification, Mr Wilchcombe replied: "That's a gradual step."
On the issue of tourists gaming in webshops, he said: "That is a concern being raised by the casino owners, but how do you stop them in real terms? How do you stop them from going to the places, you're not going to market to them but how do you stop them at the end of the day?"
Mr Wilchcombe added: "It's their dollars, they can do what they want to do."
The highly anticipated legislation will be tabled in the House of Assembly today, according to Mr Wilchcombe. However, he would not reveal at what rate the sector will be taxed.
He said: "We will have the tax rates (today) but we'll still have to review the tax rates after the audits, the industry keeps changing so you have to be mindful that we're doing something brand new and we're not going to put ourselves in a closet or hole where we can't get out.
"You have to ensure that you have flexibility you have to be sure that you can come back and revisit because a part of our demands will be the audits. All the web houses are going to have to become more professionally organised, they're going to have to have CEOs, they are going to have to have financial controllers, they're going to have to do some things that they are not doing now so when we get their numbers they will be absolute and correct."
He added: "We're going to walk in with a particular tax rate, and the tax rate is subject to change."
The number of licenses that will be offered to operators will be determined after a financial audit of applicants has been conducted, he said. He has previously said the government may award seven to eight licenses.
The industry's transition period is expected to last no less than six months, according to Mr Wilchcombe, who said it was very important that the industry was regulated ahead of implementation of value added tax.
"(Licenses) are going to be determined based upon the applications," he said.
"We'll take a look at what the gaming industry can handle, while we have received a tremendous amount of assistance from the gaming industry, and from web shop owners, we still have to audit their books and you can only audit their books after they have become regularised.
"So that will be determined upon the market, how the market can stand, and how it will work."
Last night, government parliamentarians met for a special reading of the bill to discuss changes and address possible concerns before bringing it to the House.
"I think we've been progressive, and taken into account the global community, where the world is moving in gaming. We've taken into account the fact that the Bahamas has been a leader in the gaming industry for almost 100 years now, and we have taken into account that we want to be competitive."
"We have considered the impact of the decision we make reference to gaming houses and the casinos, we're trying to make sure this giant step is done with a degree of gentleness," Mr Wilchcombe added.