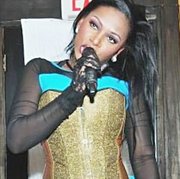 By LESH
Tribune Features Reporter
acadet@tribunemedia.net
WHETHER it was leading a church congregation in praise and worship or playing the lead roles in Christmas plays, Latoya Ferguson took not of the crowd reaction and realised that she was given the gift to deliver a message with her voice.
Latoya, who goes by the stage name Làttia, is a Caribbean recording artist,songwriter, model and dancer who dreams of making it to the top.
She hopes to one day have her music played on music stations like BET, MTV and VH1. Làttia sings all genres – pop, electronic dance music, R&B, adult contemporary and neo-soul.
As a songwriter, Làttia has penned lyrics for international recording sensations like Julien Believe, Jamaica's Cecile, Angelique Sabrina and Osano Neely, to name few. She has collaborated on several independent projects, with her most recent being a song entitled "The Anthem" with Big AC, which is currently playing on radio stations throughout the Bahamas.
Although she is currently based in South Florida, Làttia has been back and forth between the US and the Bahamas, promoting her first ever EP, "Sign Me Off".
"The first official single from the album is actually called 'Sign Me Off'. I used the song as an empowerment for anybody or any situation that comes in your way to stop you. I use 'Sign Me Off' to say I am going to do it and I will do it, the only person that can stop me is me. The next song is called 'Eviction Notice', and that is coming out shortly. Then we have 'Whatever Goes', and that is going to most likely be for the upcoming Bahamas Junkanoo Carnival. Then we have 'The News', a more serious song speaking about having a situation in a relationship," the singer said.
In February, Làttia played host to her "Sign Me Off" single release party held at Zvino on East Bay Street.
The restaurant was filled with supporters that included Julien Believe, Paula McKeva, Jane Doe and Vallon Thompson of the rock band Avante Guarden, Kim Welcome and many more.
"The turnout was great and I appreciated all of the support. With Julien, I have also been helping him and he's been helping me. He knows what I am thinking and I can almost see what he's thinking. When you are really talented, people want to be a part of that," said Làttia.
"Sign Me Off" can be found on iTunes and Amazon. It consists of the instrumental, acoustic version and a ringtone. Persons can also follow her on lattiamusic.com, Twitter, Facebook and Instagram at Làttia music.

"I want to do this full time and I would like to be known as the first me, not the next anybody else. I want to be an international global artist that produces and creates music somewhat similar to Michael Jackson, Adele and Elton John. I like to create that level of music," said Làttia
While she is interested in producing a music video for the new single, Làttia said she is still trying to put together a concept.
"The song is going so many ways and there is so many crazy ideas coming at me all at once. I have not really put my finger on the right one yet. However, moving forward I would of course like to be on tour and do some more performances. I am also available for booking at lattiamusic.com. I just want to go, keep it moving and just don't stop," she said.
Làttia believes Bahamian artists are underrated and this should not be the case because they all work vert hard and put in so much time, effort and money into their work.
"A lot of local artists don't even have the money to do half of the things we want, but we take our last to make things happen. I do think there has to be a demand with Bahamian artists. Like Jamaicans, they demand their style of music and artists. If you can pay an international artists $100,000 to come in and perform, you should do the same for your own. We need the Bahamians to respect the Bahamian artists. Everything that comes from the Bahamas at the end of the day represents us all," she said.