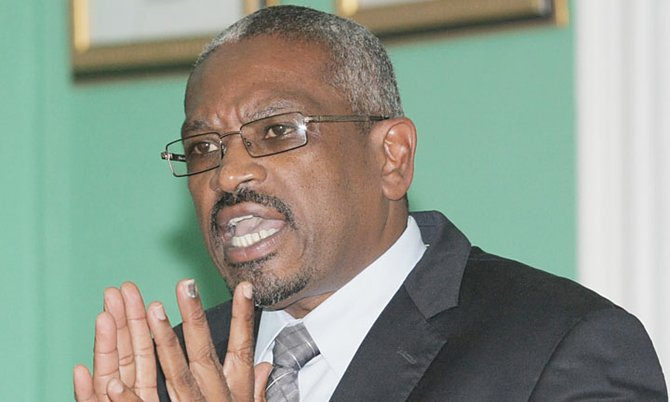 By AVA TURNQUEST
Tribune Chief Reporter
aturnquest@tribunemedia.net
FNM Leader Dr Hubert Minnis yesterday renewed calls for the government to increase funding for traditional Junkanoo festivals instead of launching a new commercial cultural product.
Dr Minnis said the $9 million proposed to be spent for the Bahamas Junkanoo Carnival should have been utilised to increase the seed money and prizes offered for the Christmas and Boxing Day Junkanoo parades.
He said the recent decision to change the festival's name to include the word Junkanoo was a "face saving" measure to counter backlash from the cultural community.
"They said they believe in Bahamians, they initially came with Carnival which is not Bahamian," Dr Minnis said. "They got a lot of backlash, now what, they come with Junkanoo Carnival trying to put some Bahamian entity into it.
"We have a cultural event, we have Junkanoo, that's our culture and we must build on that," he added. "Many of our Junkanooers spend thousands of their personal money to get to Bay Street at Christmas time. They sacrifice their lives, their time, their family, spending days and nights in the shacks just to prepare to go to perform on Bay Street.
"Why should we spend $9 million for Carnival that's not us, why shouldn't we invest in increasing the seed money for the Junkanoo groups so that they can have more?"
Dr Minnis said increased financial support would incentivise entrepreneurship as participants would be more inclined to expand their knowledge and cultural product.
He called for a cultural village designed to exhibit Junkanoo events year round.
The first Bahamas Carnival Week is scheduled for May 3-9, 2015. During Carnival week, four major events will be staged. A commission, chaired by former banker Paul Major, will oversee the Bahamas Junkanoo Carnival.
During an official ceremony launching the event at Pompey Square last week, Prime Minister Perry Christie expressed his optimism for the event that is expected to span five weeks and will kick off on Easter Monday.
The event will feature a series of activities, including concerts, cultural shows, balls and street parades, which will depict all aspects of Bahamian culture and heritage. During the period, one week will be set aside and will be known as Carnival Week.