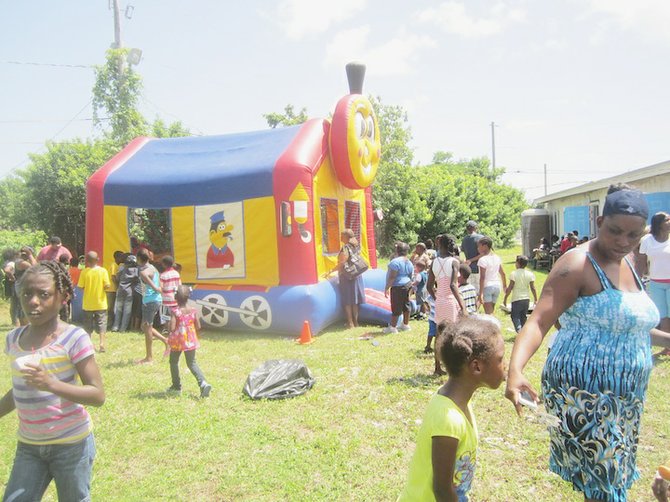 By DENISE MAYCOCK
Tribune Freeport Reporter
dmaycock@tribunemedia.net
OUTREACH Ministries multiple-purpose community centre is nearly completed at Banyan Lane, where hundreds of inner-city children attended a Back to School Giveaway and Family Fun Day on Saturday.
The sixth annual event – held in partnership with Christ the King Anglican Church and the Rotary Club – catered to about 500 children in the Garden Villas, Back of Town, Redwood Lane and Columbus Drive areas.

There was a bouncy castle, and free food and soft drinks for the children. Health screening, free haircuts for boys and hair braiding for girls were also provided and some 500 backpacks filled with school supplies were distributed.

Dudley Seide, founder of Outreach Ministries, said hosting the event at their new centre was significant because it was the realisation of his dream to open a community facility for inner-city children.
"We have been doing this for the past five years and the whole purpose is to bring some relief to the families in getting the kids ready for back to the school," he said. "I am happy that so many of them came out as it is our first time having it here at our centre, which is almost completed."
In addition to providing a fun atmosphere for the children, Mr Seide said that nurses from the Grand Bahama Health Services provided important free health screening for the children and their parents.
"We had two nurses checking the blood pressure, glucose and doing other health checks to make sure that the kids are healthy and to also detect whether there are any health issues."

Nurse Odias and Nurse Stuart said they checked the children's weight, height, and BMI (Body Mass Index) to ensure that they are healthy. "If they are overweight we give parents tips on healthy eating habits and exercise. We also check their blood pressure to ensure that it is at a healthy range, and if it is not, we advise them or refer them," said Ms Stuart.
In 2011, the Grand Bahama Port Authority donated the property at Banyan Lane to the Outreach Ministries for construction of a community centre. Mr Seide said the centre is about 75 per cent completed and will consist of a computer laboratory, a conference hall, kitchen and restrooms.

They will provide afternoon classes, mentorship programme and seminars for children, as well as provide hot meals to needy children and persons in the community.

"It is a dream of mine, and it is good to see the dream come true where we have kids come to the centre in a relaxing and fun environment," said Mr Seide.
Outreach Ministries was formed in 2008 at a time when the murder rate was at the highest in the Bahamas, he recalled. "We started a programme in Garden Villas and the whole purpose was to go where crime was. For the past seven years, I have been taking the kids to Her Majesty's Prison to see what it is like, and to also play in a basketball tournament in New Providence," he said. Mr Seide said they have one of the biggest Boys Conferences in Grand Bahama every year. This year, he said, they are planning to have a Christmas Toy Giveaway.
"If we want to fight crime, we have to go where it is in the inner-city. We have to target those kids so that they are exposed to positive activities and good role models and mentors," he said.

According to Mr Seide, there has been a lot of positive feedback from residents about what they are doing in the area. "They have welcomed us with open arms and are pleased with our efforts," he said.
Elizabeth Bridges, of Christ the King Anglican Church, commended Mr Seide for the work he is doing in the community. The church has been partnering with Outreach Ministries for the past five years in their Back to School and Family Fun Day event.

"We provide the backpacks with school supplies for children of all ages from Kindergarten up to high school, and we do a minimum of 500 backpacks at this particular function," Mrs Bridges said. "We also provide a jamboree style atmosphere with the bouncing castle, hotdogs and soft drinks."
Mrs Bridges also thanked their corporate sponsors and businesses that help the church in their ministry, such as the Lord's Kitchen where they provide hot lunches to 250 persons on Fridays and 100 lunches to children on Tuesdays at one of the schools on the island. Vicky Martell, of the Rotary Club, said they are proud of Mr Seide and his accomplishments and his work with the youth. "We have supported Mr Seide for five years now in this event providing free popcorn and snow cones for the kids. They love it and are happy to do it for them," she said.