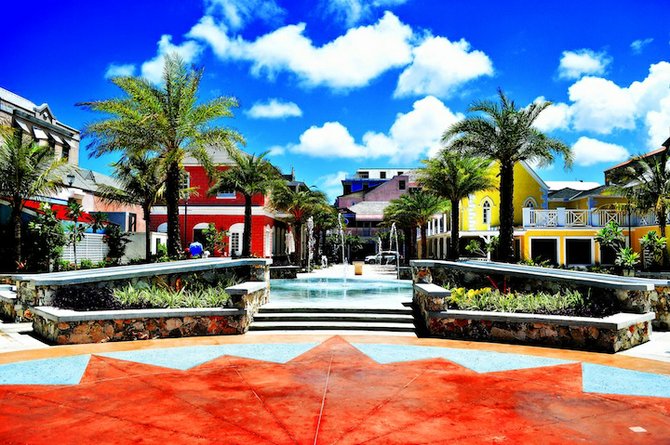 THE Downtown Nassau Partnership (DNP) has been recognised with an international award for its work and initiatives in the creation of Pompey Square, the development being described as a "shining example of excellent downtown management".
The Pompey Square project was among nine entries in the International Downtown Association (IDA) awards category of Public Space, which recognises capital improvements that have enhanced the urban design, physical function or economic viability of downtown and the community.
At the IDA's 60th anniversary conference and trade show this week in Ottawa, Canada, David Downey, the president and CEO, praised the DNP and conferred the Downtown Merit Award.
"Downtown Nassau Partnership's project received the IDA Merit Award for delivering excellence in downtown management and development of Public Spaces," said Mr Downey.
"Each year, the IDA Awards Jury recognises organisations that utilise best practices in our industry. Pompey Square is a shining example of excellent downtown management delivering real value to the city."
Gevon Moss, Project Manager of the Downtown Nassau Partnership, said in a statement yesterday that the DNP was delighted that their efforts were being recognised on an international level.
"Pompey Square is used as a catalyst for continued revitalisation by using an efficient model of public-private sector partnership," he said. "It showcases the direction of how effectively we are revitalising our city and doing it using international best practices."
The DNP is the advocacy and management organisation representing the interests of property owners in downtown Nassau while driving the area's revitalisation and is a member of the IDA.
"DNP couldn't have accomplished such an award without the team effort of our illustrious Board Members, support from the government, corporate supporters, maintenance crews, Pompey Square Associates, downtown property owners and businesses and the many businesses and organisations that continue to support DNP through hosting events and financial support," Mr Moss said.
The IDA, which is based in Washington, DC, is a champion for vital and livable urban centres and strives to inform, influence and inspire downtown leaders and advocates. With 500 members and thousands of friends, IDA is a guiding force in creating healthy and dynamic centres that anchor the wellbeing of towns, cities and regions.