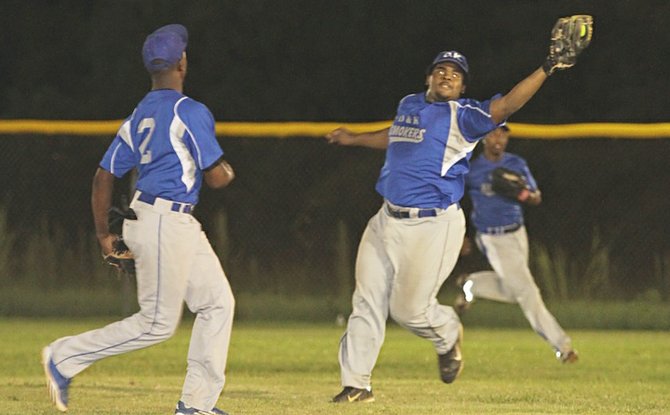 By BRENT STUBBS
Senior Sports Reporter
bstubbs@tribunemedia.net
The Chances Mighty Mitts took advantage of another chance at getting into the playoffs with the fourth and final spot, while the Arnette's Sporting Lounge Hitmen stayed in second place in a slugfest.
The two pulled off victories in a long and bizarre night of action Saturday-Sunday as the New Providence Softball Association got closer to completing its regular season with just two more weeks remaining on the schedule.
In a three-hour game that finished around 10:15pm, the Mighty Mitts had to go to the bottom of the ninth as shortstop Tori Rolle came through with a clutch run-producing single for a stunning 12-11 win over the D&K Smokers in the showdown for fourth place.
Coming off their 21-11 rout over the Smokers on August 28, the Mighty Mitts improved to 4-15 to take a 1/2 game lead for fourth place. The loss, which came after they were shutout in a perfect game from Sting Truckers' Thomas Davis on Tuesday, dropped the Smokers to 3-13 at the bottom of the men's pile.
In a west coast game that started about 10:25pm and finished shortly after 1pm on Sunday, the Hitmen held off the BTC Elite Warriors 14-12 to push their record to 11-5.
The Warriors fell to 9-6 in third as both teams more than likely will clash in the playoffs.
Mighty Mitts 12, Smokers 11
Tori Rolle was a man on a mission. His goal was to do whatever it took to help the Chances keep their chances alive for a playoff spot.
After scoring their first run in the bottom of the first to cut the deficit to 5-1, Rolle got a two-out grand slam in a seven-run fifth that brought the Mighty Mitts within one, 9-8.

Down two in the sixth, Rolle got a shot to left field that was misplayed as Mario Evans raced home with the last of three runs as they snatched a short lived 11-10 lead.
Then in the ninth - the second of the International Softball Federation's tie breaking rule where the last out from the previous inning is placed on second base, Rolle took one hit on a RBI single to left centre field to plate Antonio Burrows with the game's winning run after Burrows advanced to third on a wild pitch from losing pitcher Jeffery Woodside.
"It was all about the team tonight. It was all about just trying to get a win tonight," said Rolle, who got on base on his six trips to the plate. "The game was on the line and whoever wins tonight would more than likely go to the playoffs, so I just wanted to do it for the team."
On his personal heroics, Rolle still opted not to take any credit.
"The team worked hard. We work hard every game," he said. "We're not the best team, but we are a team out there. We just try to play together."
Woodside was working on a no-hitter until Rolle blasted the grand slam for their first three hits - a lead off single from Michael Ingraham and a single from Chedi Ferguson as they batted around the clock following the four-run home run from Rolle.
Rolle, by the way, had the only other hit in the ninth as his Mighty Mitts avoided the series of wild pitches thrown by Woodside.
On the other hand, Woodside got a towering three-run homer off winning pitcher Victor Grant to highlight their five-run first inning. He also helped his cause by getting a RBI single in the sixth.
But after the first, the Smokers could only score one run in the next six innings before they got shutout in both the extra eighth and ninth. They even had the bases loaded in the eighth, but couldn't deliver the one run as the Mighty Mitts did in the ninth to win the game.
Grant finished with 10 hits and as many strike outs to out-duel Woodside, who was credited with 13 K's to go along with his four hits and three batters hit by a pitch, much to the annoyance of manager Alphonso 'Chicken' Albury.
Hitmen 14, Warriors 12
Whenever these two teams meet, expect a lot of fireworks. Their rematch on Saturday in what is anticipated to be the battle for the second and third place teams to get into the NPSA championships, Arnette's Sporting Lounge held onto the bragging rights.
Hitmen's ace Alcott Forbes helped his own cause by going 2-for-2 with two RBI, a run scored and three walks, two of which were intentional, while he gave up just five hits and struck out 13 batters. He was also responsible for issuing seven free passes on walks.
But what he didn't do, almost all of his team-mates helped out on the offensive end to get the job done, producing at least one hit with a RBI as the Hitmen moved to 11-5 ahead of BTC, who slipped to 9-6.
First baseman Rashad Seymour, who made his presence felt with a huge two-run homer over the left centrefield fence in a three-run fourth that extended their lead to 9-3, admitted that it was one of those games where they knew they had to work hard for the W (win).
"We know there are going to be games like this, especially against BTC," Seymour stated.
"Our team stayed together and we came out victorious. I'm proud of them."
On his homer, Seymour said he was long overdue. "I've been pressing for the past three games or so," he said. "It's always good when you can hit a home run in this league, so I was pretty proud of getting that one."
The Warriors also got a monster three-run homer from centre fielder Sherman Ferguson in a four-run sixth after they staved off getting stopped in the fifth via the seven-run rule at the end of the inning with five runs as they trimmed their deficit to 10-8 to extend the game further.
But all through the game, their ace pitcher Cardinal Gilbert was called for illegal pitching. He had at least one every inning as the Hitmen took advantage to stay on top.
When asked after the game what went wrong, a frustrated Gilbert declined to comment. But his manager Erin Adderley had more than enough to say on behalf of his team and, in particular, Gilbert.
"Not all of them were warranted," he said. "He's illegal sometimes, but so is the other pitcher. For some reason, it all seemed to fall on my pitcher. But through that all, we played a very good game. We scored 12 runs. Once again we played this team and they scored about another four or five runs on the illegal pitches that were called on my pitcher."
In addition to the illegal pitches thrown, Gilbert ended the night giving up 15 hits and struck out eight for the loss.