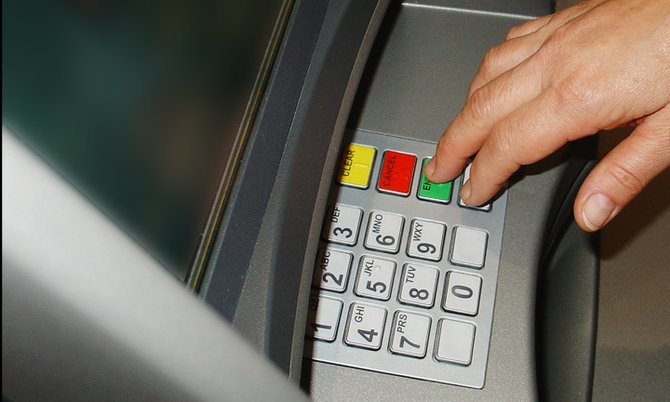 By SANCHESKA BROWN
Tribune Staff Reporter
sbrown@tribunemedia.net
POLICE are warning the public to be "extra vigilant" when using cash-dispensing machines (ATMs) throughout the capital after they arrested three Romanian men they suspect to be a part of an alleged ring of bank-card skimmers.
According to Assistant Commissioner of Police Anthony Ferguson, officers from the Central Detective Unit, acting on intelligence "mounted an operation" in the Palmdale area around 1:40am yesterday. As a result, they intercepted a small white coloured Nissan and took three Romanian nationals, ages 30, 32 and 40, into police custody.
ACP Ferguson said police believe the men were responsible for a series of ATM fraud in the capital. He declined to say what banks have been affected or how much money is suspected of being stolen. However, he said, police are on the hunt for several other Romanians they suspect to be involved in the scam.
"We cannot say too much at this time because we do not want to compromise the investigation and we are still looking for several other persons. We don't know anything about these people yet; we do not know if they are who they say they are. We got international tips about these persons so we are trying to check them and other sources available to us," ACP Ferguson said.
"We are still trying to determine how the scam works. What we know is persons are putting mechanisms in the ATM that are aiding them in the fraud – they use it to get pin numbers and personal information. So what we are saying is we do not want to frighten anyone, but we want persons to be extremely careful when using their ATMs."
ACP Ferguson offered several tips to the public.
Use ATMs that are inside a store or a bank. These are less likely to have been tampered with for skimming, which is the illegal capture and utilisation of a card holder's financial information from an ATM transaction. If you use an outside ATM, it should be well-lit and under video surveillance.
Check the machine and everything around it before you take out your card. Look for parts that seem crooked or have a different colour, or decals that are partially covered. If something does not seem right, go to another machine.
Most ATMs have flashing lights in the card slot. Their obscuration is a sign of tampering.
Look to see if there is anything in the slot where you insert your ATM card. Thieves place a small, hard-to-detect skimming device in the card slot to steal your PIN and other bank account information. If anything looks suspicious, give it a pull or push. Skimmers are usually held in place loosely by glue or tape to make them easy for the thief to remove. If you remove one, contact the police immediately. Do not throw it away or keep it; that would make it look like you are running the scheme.
Check for a false keypad that has been installed over the built-in one. False keypads stick out too far or look strange.
Check the area around the machine for hidden cameras. To be safe shield your hand when entering your PIN so it can't be seen by anyone near you or by a hidden camera. Memorise your PIN and keep it secret. Do not write it down or keep it in your wallet or purse.
Keep the customer-service phone numbers of your bank and credit-card company readily available. Call the appropriate number immediately if your card gets stuck in an ATM. Do not leave the ATM.