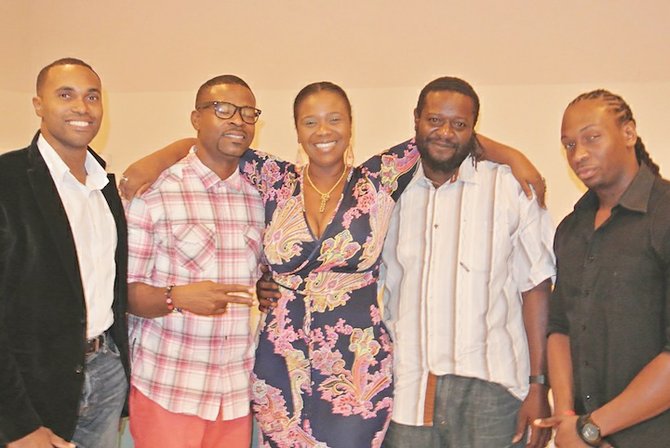 By JEFFARAH GIBSON
Tribune Features Writer
jgibson@tribunemedia.net
WHEN a woman loses sight of her dreams and gets caught up in the ambitions of the man she is with, she is loving too much. When a woman keeps hoping a man will change, even though she knows deep down this transformation will never take place, she is loving too much. When a woman plans her entire existence around the man she is with, she is loving too much. And when a woman holds onto a relationship that is broken and cannot be revived, she is loving too much.
In an attempt to fill the void of loneliness and share in true companionship with one another, some women get carried away. They become so obsessed with being in a relationship that they end up settling for less and neglecting their own needs.
Relationship coach and matchmaker Stanya Davis wants to help women put this type of relationship behind them and get to the root of their need for love from a person who cannot give it to them.
"Women who love too much are women who are attracted to emotionally unavailable men. This is the woman who has become obsessed with making her relationship work at any cost, even if it means sacrificing and compromising all of who she is to do so," she said.
In this vein, Ms Davis, who is also the founder of Adam's and Eve's Journey, a coaching institute for men and women, decided to offer a six-week course that will help women who find themselves "loving too much".
The sessions are designed to help women dig deep beneath the surface and explore the dynamics of relationships with unhealthy, unloving partners and the reasons why women stay, even though they know they are loving too much.
The intent of the "Women Who Love Too Much" course – which is inspired by Robin Norwood's self-help book by the same name – is not to bash men, but instead will encourage women to look within, accept who they are, change things that need to be changed and recover from all that they have been through. The course begins on September 29 at the Vitality Centre on Prince Charles Drive.
"I decided to offer this six-week course because there are many women who are guilty of this act, myself being one of them. Many times I found myself giving and doing most of the work, saying yes when I knew I should have not only said no, but 'hell no', and staying even if he cheated and was inconsiderate of my feelings. Just like thousands of other Bahamian women, many times I stayed when I knew I deserved more. What I could not understand was how come all of my relationships all seemed to end the same way, with me crying my eyes out and wondering what happened," she said.
"It seemed like I was always determined to make it work. When it did not happen I found myself extremely depressed, feeling less than and vowing to never let anything like that happen to me again. What was funny was that I let it happen to me again and again and again. What was ironic was that I was trying to love someone else when in fact the only person I was not loving was me."
By coming into contact with numerous other women through her coaching institute, Ms Davis found that unresolved issues stemming from childhood often contributed to present-day behaviour some women exhibited in their relationships.
"What happens on this journey to finding love is that we replay and relive what happened to us from long ago. Instead of being drawn to partners capable of loving us in a healthy way, we are drawn to an emotionally unavailable person. One trait that most women who love too much possess is the attraction to an emotionally unavailable man instead of the nice guy. As a matter of fact, because we are so drawn to drama and believe that unhealthy is the norm, we consider nice guys to be boring," she told Tribune Woman.
"The woman who loves too much has many insecurities and unresolved issues that require addressing. Because they is fixated on being loved, these women find it very hard to relax when they are in a relationship. They are filled with anxiety and are always on the edge. Many can be perceived as being controlling and jealous. Always asking questions, demanding to know where their mates are and reading into everything. These women are also very clingy and are very manipulative in finding ways to get attention and to receive love from their partners," she said.
Ms Davis said many of the women she works with are women who love too much and live in a constant state of pain because of the relationships that they have been in or are currently in. Unhealthy codependent relationships, she said, appear to be a common trait among Bahamian couples, and if the trend continues there will as be high divorce rates, suicides, domestic related crimes, angry men and sullen women, she said.
"If we want to have healthy relationships we must first stop the insanity and do the necessary work within ourselves. When we love too much we are not loving ourselves; when we love too much we are not at peace; when we love too much we are out of balance; when we love too much we cannot concentrate and be present at work; when we love too much we cannot be here in body mind and spirit for our children; when we love too much we cannot be there for ourselves."
The classes for the upcoming course are limited to only 10 spaces. For more information contact 393-7082.