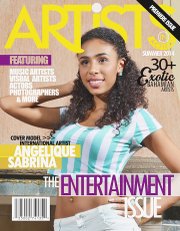 By ALESHA CADET
Tribune Features Reporter
acadet@tribunemedia.net
USING a digital platform with the aim of engaging the ever-growing social media community, a new magazine is creating an interactive experience for the Bahamian market.
The upcoming quarterly online magazine "Artists In Action" seeks to give Bahamian talent the opportunity to have their work distributed locally and internationally.
The featured talent will include visual artists, photographers, makeup artists, music artists, models and designers.
Through first-person interviews and editorial photography, the team behind "Artists In Action" said it aims to show the more personable side of artists in multi-faceted articles spotlights and features.
Shavado Gibson, the man behind "Artists In Action", said the magazine is expected to open doors for many Bahamian artists.
"The idea to start 'Artists In Action' came from being able to see and hear so many of our local artists do various artwork in their own special way. What helps to motivate this venture is that I would see on social media daily music artists, visual artists, clothing designers and more artistry work being displayed openly. I actually wanted to advertise or promote these persons by creating a magazine which allows the public to view and read more about them, whether in hard copy or online; thus bringing focus and awareness to what each artists has to offer in their unique way," he said.
In addition to being the founder and CEO of "Artists in Action", Shavado is an educator and a professional photographer. He was born in New Providence but grew up on what he calls "one of the most beautiful peaceful islands", Long Island.
While the magazine is not officially launched as yet, Shavado said he is looking forward to the positive and vibrant feedback later on this year.
"I would like to see a positive outcome from the magazine all around. In some things it is not all about the money at first. However, my team and I hope to receive more endorsement, sponsorship and sales for the magazine. Overall, we know by God's help it will be a great success. Like the Bible says, your gift will make room for you. Also good things come to those who wait," he said.