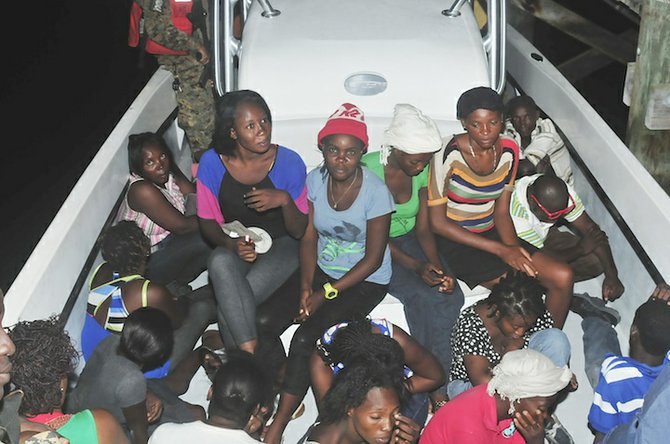 By NICO SCAVELLA
NEARLY 100 Haitian immigrants were arrested by Royal Bahamas Defence Force officials in the Exuma chain on Monday.
Monday's apprehension, a joint effort with local police officers, brought the number of arrested Haitian migrants to 631 since the first week of June, according to The Tribune's records.
According to reports, a blue Haitian sailing sloop was sighted at approximately 10 nautical miles off Darby Island in the Exumas by police officers who subsequently brought it alongside Farmer's Cay.
The migrants were subsequently caught by Defence Force Fast Patrol Crafts commanded by Chief Petty Officer Ross Seymour. A search of the vessel resulted in the apprehension of undocumented Haitian nationals: 79 men, 14 women, and one child.
The migrants were taken into custody and were taken to the RBDF's Coral Harbour Base where they were handed over to Immigration authorities for further processing.
Last month, RBDF officials picked up more than 300 illegal Haitian migrants in three separate incidents that took place between August 19-25.
On the weekend before August 25, defence force
officials apprehended 105 Haitians – 76 males and 29 females – from a Haitian sloop several miles off the southern end of Duncan Town.
On August 20, Defence Force marines stationed at the Exuma Cays Land and Sea Park arrested 100 Haitians aboard a sailing sloop 10 miles southwest of Warderick Wells Cay.
Twelve hours before that, on August 19, officials on routine patrol encountered and detained 124 Haitians in Flamingo Cay off Ragged Island.
On July 5, 30 Haitians were detained in Abaco after being taken from a sloop that authorities intercepted. A week before, on June 27, officials apprehended 102 Haitians from Hawksbill Rock in Exuma.
And on June 3, 76 Haitian migrants were arrested from Belle Island in the Exuma chain.
During a visit to the Bahamas in June, Haitian President Michel Martelly lamented the loss of lives of his countrymen who make the often treacherous journey to the Bahamas in search of a better life.
He said addressing the issue was one of the reasons he had come to the Bahamas to sign bilateral agreements with the government with the hope of creating the kind of opportunities that would improve Haiti's economy and give Haitians a reason to stay at home.