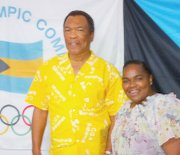 By BRENT STUBBS
Senior Sports Reporter
bstubbs@tribunemedia.net
KAYLA Johnson, the first Bahamian coach, will be making history as she gets the opportunity to participate in a high-level boxing course.
Johnson, the local coach of her brother Tureano 'Reno' Johnson, will be heading to Mexico City Sunday for a week-long course that has been made possible through the efforts of both the Bahamas Olympic Committee and the Amateur Boxing Federation of the Bahamas.
The 23-year-old, who has been coaching since she started the Marlins Boxing Club a decade ago, said she's honoured to have been afforded the opportunity to get the international exposure.
"It's been a road that I'm going to remember greatly," said Johnson whose journey through the ranks has been as an assistant coach to Andre Seymour on the men's national team.
"I'm ecstatic about this opportunity. This is not the end for women in boxing and the sport in general. I'm happy to rub shoulders with some of the greats in this room right here today. I just want to say that women's sports is on the rise."
As the lone rider in the sport that is dominated by the men, Johnson said she intends to make her presence felt. "I know I'm coming into the men's territory but in doing so, I have trained some of the best and I've had the opportunity to go off and worked with some of the best like Andre Seymour," she said. "It has been a journey for me, a learning experience mostly. This is going to help me a great deal, especially since I'm going off to do my coaching course. That experience is going to help me a long way."
And while her brother stands out as an international star, Johnson said it's her goal in the future to become even bigger than he is right now.
Reno Johnson, the new WBC Continental Americas middleweight champion, said he's extremely proud of the accomplishment of his sister.
"It's been a long time coming. Kayla Johnson, in my opinion, has been dedicated to the sport and she's been there through the ups and the downs," he said. "It's just a matter of time. This is just another stepping stone for her to educate herself to be more tactical and technical in the sport.
"With the help of the Bahamas Olympic Committee and the Amateur Boxing Federaion of the Bahamas, her dream is going to come true."
Despite the fact that he is based in Georgia in the US, Johnson said his sister has been working with him as a coach whenever he's in town preparing for his fights during his career.
"Now that she's going away to improve on her skills I expect that my talent will improve," said Johnson, who will be back in the ring on Saturday when he takes on Marvin Bendicott in his first fight since winning the WBC Continental Americas middleweight title on August 11 over Mike Gavronski at the Little Creek Casino Resort in Shelton, Washington.
"I'm grateful, not just for her, but the fact that she will be able to come back and help me to be a better fighter and to also assist the amateur boxing programme."
Wellington Miller, the BOC and Amateur Boxing Federation president, said this is another great opportunity for a Bahamian coach to take part in such a prestigious course.
"Women's boxing is a fast growing sport around the world and when coach Johnson returns, we hope that she can attract some young Bahamian women into the fine art and the sweet science of boxing," he said.