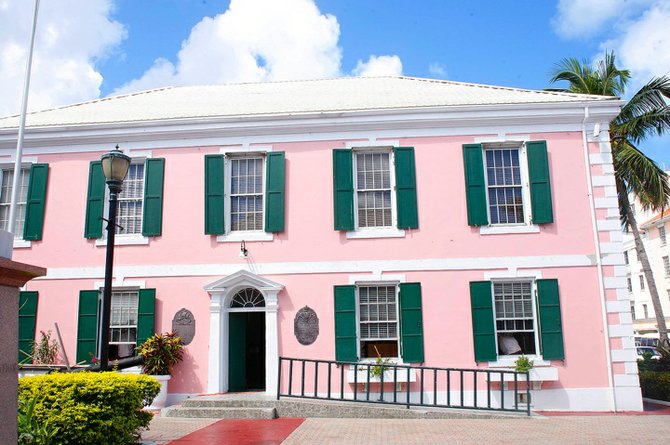 By RASHAD ROLLE
Tribune Staff Reporter
rrolle@tribunemedia.net
A BILL to abolish the controversial mandatory minimum sentences implemented by the former Ingraham administration was one of a compendium of bills debated in the House of Assembly yesterday as part of the government's effort to modernise the judicial system and curb crime in the country.
To combat crime, the former FNM government imposed mandatory minimum sentences almost three years ago. However, judicial officials have criticised the practice.
During her address at the opening of the Court of Appeal in January, Court president Anita Allen said: "Significantly, Magisterial Criminal Appeals accounted for over 50 per cent of the number of matters disposed of, and well over 90 per cent of these were appeals against the imposition of the mandatory minimum sentences for drugs, firearms and ammunition possession. The sheer number of these appeals, however, places immense pressure on this court."
In addition, Supreme Court Senior Justice Jon Isaacs recently declared that four-year mandatory minimum sentence for drug possession with intent to supply is unconstitutional.
Legal Affairs Minister Damian Gomez said the government has heard the criticism of judicial officials and has taken action. "The judges have spoken," he said. "They have to work with these pieces of legislation that we pass in this honourable House. We wish them to know that my government has listened."
In addition, parliamentarians debated a Bill that will allow oral applications to be made for use of video links as a mode of evidence and for related matters. The Bill will amend the Evidence Act to allow testimony to be given by live television link "where the witness is not on the island where the trial is taking place; where the court of trial on its own motion consider it appropriate that the evidence be given by television link and where the quality of the testimony of the witness is likely to be affected by reason of the witness being in fear or distress."
Parliamentarians also debated a Bill to amend the Coroners Act, principally to allow a Coroner's Court to make a finding of homicide. The Act would allow the Court to make a committal of a person against whom a finding of homicide is made and grant power to the coroner to take bail in cases of homicides other than murder.
The House of Assembly passed all four Bills debated yesterday - the amended Bail Act, the amended Evidence Act, the amended Coroners Act and the Bill covering the scrapping of mandatory minimum sentences.