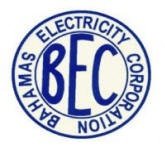 By SANCHESKA BROWN
Tribune Staff Reporter
sbrown@tribunemedia.net
THE BAHAMAS Electricity Corporation is expected to purchase five or six new generators in the coming weeks for about $6 million, the corporation's Executive Chairman Leslie Miller said yesterday.
Mr Miller told The Tribune the team of BEC experts that travelled to Florida to view the generators returned yesterday evening with "great news".
He said the purchase of the new generators is in direct response to the continuous blackouts and power outages in New Providence and throughout the Family Islands this summer – and preparation for Baha Mar being added to the grid.
"The team is coming back this evening and we will all sit down and get their views and recommendations," Mr Miller said, "but from what I know so far, the engines they looked at are in pretty good shape.
"We are getting a good deal with these engines and they will get us ready for Baha Mar. We need to move now; we cannot wait until another emergency situation and then not have adequate supply. That is why we are moving forward with this and we will do whatever it takes.
"I also spoke to the minister about it and he is on board. The engines are 2.5 mega watts and we were told they are in excellent shape and have no problems. So now we just have to sit down with management and talk about the details. I was told it's about $6 million in total and that is a hell of a deal. We are getting these engines with a 50 per cent reduction in price.
"They were earmarked for Africa, but the people did not come through so the company wants to get rid of them. We are familiar with this company and these engines because we used them before. We purchased engines from them before for Eleuthera and Abaco."
Last month, Mr Miller said BEC's capacity to meet demand will be further crippled once the Baha Mar mega resort at Cable Beach comes on stream.
He said without a new power plant, which will cost about $200m, the country will continue to be plagued with outages that will worsen when Baha Mar is added to the grid.
"We need a new plant with sufficient reserves, that is what we are faced with right now. It will be a big problem if we don't get this plant. If one of those engines goes down when Baha Mar comes online, it will cause serious problems. We anticipated this and tried to move fast.
"We are just waiting for those who make the decisions to make a move. If everything is percolating and working as it should, we will be fine, but if an engine trips it will present problems," he said.
BEC has been plagued with power outages for several months. Mr Miller said this is the "worst he has ever seen it".