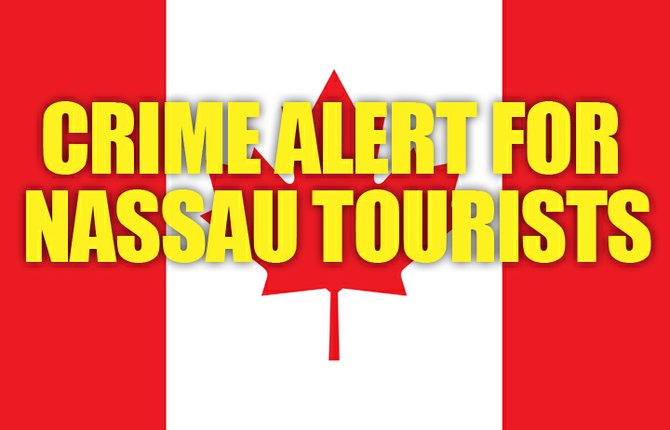 By NEIL HARTNELL
and NICO SCAVELLA
THE Canadian government has threatened to deal a blow to The Bahamas tourism industry by advising its citizens to "exercise a high degree of caution, especially in Nassau, due to high rates of crime".
While there is "no nationwide advisory in effect for the Bahamas", the warning on Wednesday, issued via the government website www.canada.ca, urged travellers to be vigilant and raised the alert status from normal.
Canadians are the fastest-growing visitor sector for The Bahamas: the first five months of this year saw the arrival of 75,552 Canadian tourists, a 17 per cent annual increase.
The advisory also said that crime was "minimal" in the Family Islands, but urged Canadian citizens to stay alert and remain vigilant while in New Providence.
Robert Ready, the non-resident Canadian High Commissioner for The Bahamas, told The Tribune yesterday that the release of the enhanced warning came with the lead-up to the peak winter tourism season in mind.
"We've taken our Travel Advisory up one level," he said. "We've done that based on our ongoing assessment on the safety and security conditions in The Bahamas."
We're aware of some increased violent activity in and around Nassau, and aware of what our international partners are doing – and thinking – with regard to their various advisories, and some tour operators."
Mr Ready said the Canadian government regularly assessed the crime and security situation in Nassau, and kept it under constant review. "Our advisory speaks for itself," he said. "There has been an increase in violent activity, and we have Canadians certainly wanting to be travelling to The Bahamas during tourist season. We want them to be cognisant of the situation and behave accordingly."
Yesterday, one man died after a shooting in Montell Heights, taking the country's murder toll for 2014 to 88.
Tourism Minister Obie Wilchcombe said he was "cautiously concerned" that the Canadian government's warnings could have a negative effect on Grand Bahama.
Mr Wilchcombe said although Canada was "simply following the protocol of other countries," particular attention must be paid to the reports because "a large number of our business to Grand Bahama comes from Canada."
"Canada has been driving the rebound of Grand Bahama as opposed to the USA, which has been driving tourism throughout the Bahamas but in New Providence in particular," he said. "Grand Bahama is now being driven by arrivals coming out of Canada.
"We had seen a decline in Grand Bahama as it relates to tourism for many decades and we have not seen a recovery since 2004. So with Sunwing coming on board, we saw the opening of The Reef which became Memories, and of course new airlifts and new gates in Toronto and other gates in Canada that changed the entire game. This year you'll see new flights from places like Vancouver beginning November 1st. So it's imperative that we continuously work on our general perception in the world globally."
Last month, Mr Wilchcombe also admitted that he was "concerned" about the negative effects international reports on crime in the Bahamas could have on the tourism industry.
He did not confirm whether or not the industry would lose business as a result, but said the negative reports were "not good for the country" and that the "imagery of the country" is affected whenever there is a spate of violent crime.
Mr Wilchcombe shared the same sentiments yesterday, and when questioned as to what could have caused such a report despite Canada playing a vital role in Grand Bahama's economy, he attributed it to the April 8 murder of Canadian resident Edgar Dart, who was killed when a masked gang attacked his mother's home in Emerald Bay, Grand Bahama.
"The nations have responsibilities," he said. "We cannot take exception to certain places wishing to advise their citizens before they travel. Truth be told I believe it has a lot to do with what happened earlier; the Dart homicide that's still under investigation. They (Canada) perhaps just raised the red flag of caution.
"I think they are simply following the protocol of other countries, but I know full well there are no ongoing activities or situations that anyone can point to that links to any crime wave in Grand Bahama.
"I weigh the concerns every day because as we are seeking to secure our economy again, help create sustainability, we also know how vulnerable any country would be, particularly developing states when we are so dependent upon tourism. Any instance can cause a major reversal in the trend we are on right now.
"So, yes, I am always cautiously concerned about what is going on and reports that might be travelling whether its the internet or the mainstream media. As Minister of Tourism we must always seek to have a constant reminder to the world of the wonderful Bahamas that they've heard of. They must always be assured that insofar as crime in concerned our ministry of national security, our police, our defence force and all those who are related to crime solving, ensure that we can eliminate the circumstance."